Hacienda Monasterio
About Hacienda Monasterio
Peter Sisseck is a legendary name in Ribera del Duero. The imperious driving force behind Dominio de Pingus, he has several winemaking initiatives across the globe which has earned him a feverish cult following in fine wine circles.
One of those projects sought-after by many is Hacienda Monasterio. Like Dominio de Pingus a winery from Ribera del Duero, it is located close to the villages of Pesquera de Valbuena covering 70 ha of vines. Residing in the village, Peter Sisseck has been the consultant winemaker here since 1990. Naturally, it is no surprise that their wines are of the highest standing in the region.
Hacienda Monasterio Ribera del Duero Reserva is made up of mostly Tinto Fino (Tempranillo) plus around 20% of Cabernet Sauvignon. Unlike the regular cuvée, the grapes were selected from limestone-rich soil - a terroir which typically adds freshness to the wine. After picking only the best grapes, this wine was fermented in stainless steel tanks with indigenous yeasts, then matured in French barriques for 20 months before release.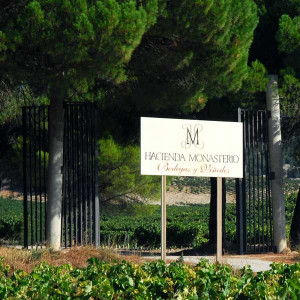 Name
Price Low
Price High
Year (Old)
Year (New)
Prices:
Product Name
Region
Qty
Score
Price

Castilla y Leon
1
97 (TA)

Inc. VAT

£486.29

Tim Atkin MW (97)

This superb Reserva from the textbook, cooler climate 2016 vintage is one of the best young wines I have ever tasted from Carlos de la Fuente and Peter Sisseck. Marrying Tinto Fino with 20% Cabernet Sauvignon, aged in 40% new wood, this comes from a parcel with a very high limestone content, which adds freshness on these warm slopes. Scented, graceful and refined, it has cassis and blackberry fruit, graceful tannins, subtle wood and a long, tapering finish. Exceptional winemaking. 2023-32

More Info

Castilla y Leon
1
95 (WA)

Inc. VAT

£527.09

Wine Advocate (95)

Somehow I didn't taste the 2017 Hacienda Monasterio, but I did taste the 2017 Reserva, which is quite impressive for such a challenging year in Ribera del Duero. They suffered less from the frost on the property, which is quite warm and usually frost-free. The wine has a seductive nose that combines raspberries and cranberries with herbs and flowers. It's ripe at 15% alcohol, but it does not show heat or alcohol. This is 80% to 82% Tinto Fino and the rest Cabernet Sauvignon that matured in barrel for some 20 months. It's medium to full-bodied, juicy, rich and velvety, with fine, chalky tannins. The wine really transcends the challenges of the vintage and delivers more than I expected. 35,000 bottles produced.

More Info

Castilla y Leon
1
94 (VN)

Inc. VAT

£1,387.78

Vinous (94)

(78% tempranillo and 22% cabernet sauvignon; aged for 20 months in small French oak barrels): Deep ruby. Intense aromas of blackcurrant, cherry compote and licorice, with a suggestion of sexy oak spices. Supple and broad but lively, with ripe, sweet dark berry flavors lifted by juicy acidity. Smooth, sweet and seamless on the finish, which hangs on with outstanding tenacity and youthful tannic grip.

More Info

Castilla y Leon
1
-

Inc. VAT

£673.49

The top shelf expression of Hacienda Monasterio, the Reserva Especial is not produced every year and could be the equivalent of a Gran Reserva. It is typically a Temperanillo-dominated blend complemented with Cabernet Sauvignon. Quantities may vary but for the 2015 vintage, only 4,000 bottles were produced. Although sitting in bottle for years now, the estate doesn't allow anyone to taste the wine until it's actually released, which is usually a few months later in the calendar year than its younger siblings.

More Info
Product Name
Region
Qty
Score
Price

Castilla y Leon
1
97 (TA)

In Bond

£386.00

Tim Atkin MW (97)

This superb Reserva from the textbook, cooler climate 2016 vintage is one of the best young wines I have ever tasted from Carlos de la Fuente and Peter Sisseck. Marrying Tinto Fino with 20% Cabernet Sauvignon, aged in 40% new wood, this comes from a parcel with a very high limestone content, which adds freshness on these warm slopes. Scented, graceful and refined, it has cassis and blackberry fruit, graceful tannins, subtle wood and a long, tapering finish. Exceptional winemaking. 2023-32

More Info

Castilla y Leon
1
95 (WA)

In Bond

£420.00

Wine Advocate (95)

Somehow I didn't taste the 2017 Hacienda Monasterio, but I did taste the 2017 Reserva, which is quite impressive for such a challenging year in Ribera del Duero. They suffered less from the frost on the property, which is quite warm and usually frost-free. The wine has a seductive nose that combines raspberries and cranberries with herbs and flowers. It's ripe at 15% alcohol, but it does not show heat or alcohol. This is 80% to 82% Tinto Fino and the rest Cabernet Sauvignon that matured in barrel for some 20 months. It's medium to full-bodied, juicy, rich and velvety, with fine, chalky tannins. The wine really transcends the challenges of the vintage and delivers more than I expected. 35,000 bottles produced.

More Info

Castilla y Leon
1
94 (VN)

In Bond

£1,118.00

Vinous (94)

(78% tempranillo and 22% cabernet sauvignon; aged for 20 months in small French oak barrels): Deep ruby. Intense aromas of blackcurrant, cherry compote and licorice, with a suggestion of sexy oak spices. Supple and broad but lively, with ripe, sweet dark berry flavors lifted by juicy acidity. Smooth, sweet and seamless on the finish, which hangs on with outstanding tenacity and youthful tannic grip.

More Info

Castilla y Leon
1
-

In Bond

£542.00

The top shelf expression of Hacienda Monasterio, the Reserva Especial is not produced every year and could be the equivalent of a Gran Reserva. It is typically a Temperanillo-dominated blend complemented with Cabernet Sauvignon. Quantities may vary but for the 2015 vintage, only 4,000 bottles were produced. Although sitting in bottle for years now, the estate doesn't allow anyone to taste the wine until it's actually released, which is usually a few months later in the calendar year than its younger siblings.

More Info
Name
Price Low
Price High
Year (Old)
Year (New)