Champagne Henriot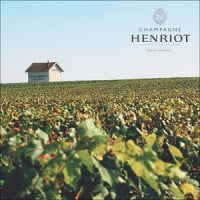 About Champagne Henriot
Henriot is a Champagne house with a rich heritage. Created in 1808 by Apolline Henriot, the 200-year-old independent and family-run house is a Champagne connoisseur's secret. Joseph Henriot, who managed the house from 1962, also presided over Charles Heidsieck and, at one point, was even led Veuve Clicquot for a period. The Henriot family also owns Burgundian producers Bouchard Père & Fils, William Fèvre and Château de Poncié.
In the modern era they have excelled, garnering a wealth of awards and plaudits. The house's achievements were further affirmed by the international wine community when their cellar master, Laurent Fresnet, was crowned "Sparkling Winemaker of the Year" for 2 consecutive years during the International Wine Challenge (IWC) in 2015 and 2016. Champagne Henriot received also the Len Evans trophy in 2018 from the International Wine Challenge.
Viniculture
Champagne Henriot has long since been recognized for its brilliant, Chardonnay-driven, champagnes sourced from their Grand and Premier Cru vineyards in Côte des Blancs and the north of the Montagne. Stylistically a far cry from the overly manipulated wines of many other "Grandes Marques", the Henriot style is one of elegance and finesse, with the focus on precision and minerality. One of the keys to Henriot's consistency is the quality of their Grand Cru and Premier Cru vineyard growers in the Côte des Blancs and Montagne de Reims.
Prices:
Year
Wine
Region
Format
Qty
Score
Price
Wishlist

Henriot Brut Souverain NV (1x75cl)

Inc. VAT: £56.23

NV
Champagne
1x75cl
1
90 (VN)

Read Review/Description

Inc. VAT: £56.23

Henriot Brut Souverain NV (6x75cl)

Inc. VAT: £234.18

NV
Champagne
6x75cl
30
90 (VN)

Read Review/Description

Inc. VAT: £234.18
Year
Wine
Region
Format
Qty
Score
Price
Wishlist

Henriot Brut Souverain NV (1x75cl)

In Bond: £44.00

NV
Champagne
1x75cl
1
90 (VN)

Read Review/Description

In Bond: £44.00

Henriot Brut Souverain NV (6x75cl)

In Bond: £178.00

NV
Champagne
6x75cl
30
90 (VN)

Read Review/Description

In Bond: £178.00