Heresztyn-Mazzini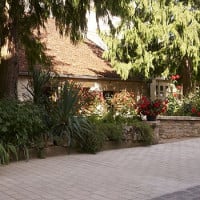 About Heresztyn-Mazzini
The quiet and unassuming neighbour of Pierre Duroché, Heresztyn-Mazzini has (finally) caught the attention of Neal Martin, who is not shy about directing the spotlight to this Domaine. Today we are thrilled to feature the 2019 range of this hidden gem that, in Neal Martin's opinion, will make a fine substitute for Armand Rousseau!
"Their premier cru Les Champonnets will make a perfectly fine substitute if your allocation of Rousseau has been cut since there are stylistic similarities, and whilst I don't think their Morey-Saint-Denis quite hit the spot, their Clos Saint-Denis Grand Cru is top class. For sure, their name does not quite trip off the tongue like Rousseau or Dugat, but the contents can be described in a two-syllable word...yummy." – Neal Martin (Vinous)
The story of Heresztyn-Mazzini began with Jean Heresztyn, a Polish migrant who left Poland in the 1930s due to the ailing economy. He eventually found work at Domaine Trapet and by 1959, had saved enough to start his own Domaine. For many years, the domaine's wines remained mediocre until Florence Heresztyn and her husband, Simon Mazzini, took over the reins beginning with the 2012 vintage. Under her charge, wines made a remarkable turn for the better and are now highly regarded, mentioned in the same breath as top names like Armand Rousseau, Dugat-Py and Pierre Duroché.
Prices:
Year
Wine
Region
Format
Qty
Score
Price
Wishlist

Heresztyn Chambolle Musigny 2018 (6x75cl)

Inc. VAT: £461.27

2018
Burgundy
6x75cl
1
-
Inc. VAT: £461.27

Heresztyn-Mazzini Gevrey-Chambertin 1er Cru Les Goulots 2017 (12x75cl)

Inc. VAT: £938.14

2017
Burgundy
12x75cl
2
92-94 (VN)

Read Review/Description

Inc. VAT: £938.14

Heresztyn-Mazzini Gevrey-Chambertin 1er Cru Les Goulots 2018 (6x75cl)

Inc. VAT: £482.87

2018
Burgundy
6x75cl
1
92-96 (JMO)

Read Review/Description

Inc. VAT: £482.87
Year
Wine
Region
Format
Qty
Score
Price
Wishlist

Heresztyn Chambolle Musigny 2018 (6x75cl)

In Bond: £371.00

2018
Burgundy
6x75cl
1
-
In Bond: £371.00

Heresztyn-Mazzini Gevrey-Chambertin 1er Cru Les Goulots 2017 (12x75cl)

In Bond: £755.00

2017
Burgundy
12x75cl
2
92-94 (VN)

Read Review/Description

In Bond: £755.00

Heresztyn-Mazzini Gevrey-Chambertin 1er Cru Les Goulots 2018 (6x75cl)

In Bond: £389.00

2018
Burgundy
6x75cl
1
92-96 (JMO)

Read Review/Description

In Bond: £389.00