Château La Fleur-Pétrus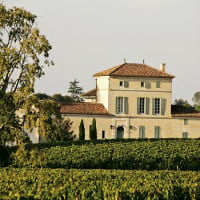 About Château La Fleur-Pétrus
Dating from the 19th century, it was historically seen as a good-quality property which didn't quite live up to its considerable potential even when JP Mouiex acquired it in 1953. Today run by Edouard and his father Christian Moueix, the latter taking over the Château in 1978, it is surmised that the taking over of legendary namesake Château Pétrus entirely by the JF Moueix/Duclot branch of the family in 2011 has had an energising effect on the team at La Fleur-Pétrus, allowing them to pour their full efforts into its elevation to the highest echelons of Pomerol.
This property's revolution began in earnest in 2012 with the addition of 5.3 hectares of gravel-clay soils from Château Guillot as well as 5.9 hectares formerly bottled by the Moueix family as "Providence". A ruthless chopping and changing of what would be considered worthy of Château La Fleur-Pétrus ensued, with any and all land falling below the Moueix definition of the Pomerol plateau relegated to its (still very fine) sibling estate Château Lagrange (Pomerol). By the end of this seismic undertaking, a full 6 hectares of vines were no longer to be producing fruit for this label.
Viniculture
The entirety of Château La Fleur-Pétrus is now planted on the plateau, giving rise to exquisite grapes and sensational wines but also requiring the addition of extensive drainage channels as it is a true – extremely flat – plateau rising no more than 15cm across the full length.
Planted to 91% Merlot, 6% Cabernet Franc and 3% Petit Verdot, there are in total three plots with 16 distinct soil types from clay, sand and gravel representing incredibly varied terroir for one single Château. The wine itself, in the words of Jane Anson (Decanter), "captures the Pomerol sexiness that is such a pleasing signature of the appellation". Ineffably complex with wonderfully layered, dense dark fruits, La Fleur-Pétrus is distinguishable for its sublime core of acidity bringing freshness to its richness, whilst grippy tannins mellow with age to form an utterly seductive and finessed wine.
Prices:
Year
Wine
Region
Format
Qty
Score
Price
Wishlist

La Fleur Petrus 1975 (1x75cl)

Inc. VAT: £422.40

1975
Bordeaux
1x75cl
1
-
Inc. VAT: £422.40

La Fleur Petrus 2007 (6x75cl)

Inc. VAT: £1,249.67

2007
Bordeaux
6x75cl
3
92 (WA)

Read Review/Description

Inc. VAT: £1,249.67

La Fleur Petrus 2008 (6x75cl)

Inc. VAT: £1,816.07

2008
Bordeaux
6x75cl
1
95 (WA)

Read Review/Description

Inc. VAT: £1,816.07

La Fleur Petrus 2009 (12x75cl)

Inc. VAT: £4,292.14

2009
Bordeaux
12x75cl
1
97-100 (WS)

Read Review/Description

Inc. VAT: £4,292.14

La Fleur Petrus 2011 (6x75cl)

Inc. VAT: £1,457.27

2011
Bordeaux
6x75cl
3
92-93 (JS)

Read Review/Description

Inc. VAT: £1,457.27

La Fleur Petrus 2012 (6x75cl)

Inc. VAT: £1,362.47

2012
Bordeaux
6x75cl
1
96 (VN (AG))

Read Review/Description

Inc. VAT: £1,362.47

La Fleur Petrus 2013 (6x75cl)

Inc. VAT: £1,457.27

2013
Bordeaux
6x75cl
5
91-94 (VN (AG))

Read Review/Description

Inc. VAT: £1,457.27

La Fleur Petrus 2014 (6x75cl)

Inc. VAT: £1,390.07

2014
Bordeaux
6x75cl
1
96 (VN (AG))

Read Review/Description

Inc. VAT: £1,390.07

La Fleur Petrus 2015 (6x75cl)

Inc. VAT: £1,255.67

2015
Bordeaux
6x75cl
1
97+ (VN (AG))

Read Review/Description

Inc. VAT: £1,255.67

La Fleur Petrus 2017 (3x75cl)

Inc. VAT: £751.44

2017
Bordeaux
3x75cl
1
96 (VN (AG))

Read Review/Description

Inc. VAT: £751.44

La Fleur Petrus 2017 (6x75cl)

Inc. VAT: £1,279.67

2017
Bordeaux
6x75cl
2
96 (VN (AG))

Read Review/Description

Inc. VAT: £1,279.67

La Fleur Petrus 2018 (3x75cl)

Inc. VAT: £751.44

2018
Bordeaux
3x75cl
1
99 (JS)

Read Review/Description

Inc. VAT: £751.44

La Fleur Petrus 2018 (6x75cl)

Inc. VAT: £1,249.67

2018
Bordeaux
6x75cl
7
99 (JS)

Read Review/Description

Inc. VAT: £1,249.67

La Fleur Petrus 2019 (3x75cl)

Inc. VAT: £758.04

2019
Bordeaux
3x75cl
1
98 (JA)

Read Review/Description

Inc. VAT: £758.04

La Fleur Petrus 2019 (6x75cl)

Inc. VAT: £1,316.87

2019
Bordeaux
6x75cl
2
98 (JA)

Read Review/Description

Inc. VAT: £1,316.87
Year
Wine
Region
Format
Qty
Score
Price
Wishlist

La Fleur Petrus 1975 (1x75cl)

Inc. VAT: £422.40

1975
Bordeaux
1x75cl
1
-
Inc. VAT: £422.40

La Fleur Petrus 2007 (6x75cl)

In Bond: £1,028.00

2007
Bordeaux
6x75cl
3
92 (WA)

Read Review/Description

In Bond: £1,028.00

La Fleur Petrus 2008 (6x75cl)

In Bond: £1,500.00

2008
Bordeaux
6x75cl
1
95 (WA)

Read Review/Description

In Bond: £1,500.00

La Fleur Petrus 2009 (12x75cl)

In Bond: £3,550.00

2009
Bordeaux
12x75cl
1
97-100 (WS)

Read Review/Description

In Bond: £3,550.00

La Fleur Petrus 2011 (6x75cl)

In Bond: £1,201.00

2011
Bordeaux
6x75cl
3
92-93 (JS)

Read Review/Description

In Bond: £1,201.00

La Fleur Petrus 2012 (6x75cl)

In Bond: £1,122.00

2012
Bordeaux
6x75cl
1
96 (VN (AG))

Read Review/Description

In Bond: £1,122.00

La Fleur Petrus 2013 (6x75cl)

In Bond: £1,201.00

2013
Bordeaux
6x75cl
5
91-94 (VN (AG))

Read Review/Description

In Bond: £1,201.00

La Fleur Petrus 2014 (6x75cl)

In Bond: £1,145.00

2014
Bordeaux
6x75cl
1
96 (VN (AG))

Read Review/Description

In Bond: £1,145.00

La Fleur Petrus 2015 (6x75cl)

In Bond: £1,033.00

2015
Bordeaux
6x75cl
1
97+ (VN (AG))

Read Review/Description

In Bond: £1,033.00

La Fleur Petrus 2017 (3x75cl)

In Bond: £619.50

2017
Bordeaux
3x75cl
1
96 (VN (AG))

Read Review/Description

In Bond: £619.50

La Fleur Petrus 2017 (6x75cl)

In Bond: £1,053.00

2017
Bordeaux
6x75cl
2
96 (VN (AG))

Read Review/Description

In Bond: £1,053.00

La Fleur Petrus 2018 (3x75cl)

In Bond: £619.50

2018
Bordeaux
3x75cl
1
99 (JS)

Read Review/Description

In Bond: £619.50

La Fleur Petrus 2018 (6x75cl)

In Bond: £1,028.00

2018
Bordeaux
6x75cl
7
99 (JS)

Read Review/Description

In Bond: £1,028.00

La Fleur Petrus 2019 (3x75cl)

In Bond: £625.00

2019
Bordeaux
3x75cl
1
98 (JA)

Read Review/Description

In Bond: £625.00

La Fleur Petrus 2019 (6x75cl)

In Bond: £1,084.00

2019
Bordeaux
6x75cl
2
98 (JA)

Read Review/Description

In Bond: £1,084.00