Château Léoville-Poyferré
About Chateau Léoville-Poyferré
Chateau Léoville-Poyferré has emerged as perhaps the second most important St. Julien estate behind Léoville las Cases. The property can trace its history all the way back to 1638, but that history is a tortuous path of ownership and name changes as part of what came to be called the "Léoville" estate. The Cuvelier family purchased this Château in 1920, and it remains in their stewardship to this day in the form of Sara Lecompte-Cuvelier, niece of Didier who oversaw some remarkable improvements to the estate during the 1980s and onwards. The team is comprised of some truly masterful oenologists, including the original superstar consultant Michel Rolland - Léoville-Poyferré was in fact only his second-ever consulting role, and he has now been at the property for over 40 years!
The Vineyard and the Winemaking
Léoville-Poyferré has always been and remains different in spirit to its siblings. Overseeing 60ha estate with some wonderful plots in the 'Grand Clos' bordering Las Cases, the estate is also constituted of plots splitting up over much of St-Julien, meaning that Poyferré has some of the most varied terroirs in the entire region, and certainly the most diverse of the incredible triumvirate.
One of the very first estates in the region to carry out malolactic fermentation in oak barrels, this has always been a forward-thinking and innovative producer. Today, optical sorting tables are used in the advanced winery where vinification occurs on fruit from very low-yielding plots - 35hl/ha compared to the Bordeaux average of 45hl/ha.
A higher proportion of Merlot in the blend (and in the vineyard) than is typical for St-Julien yields results only to be expected stylistically. The wine is rounded, rich and generous; however, as Cabernet Sauvignon still dominates, Léoville Poyferré retains the stunning freshness, acidity and structure to be expected from the greatest expressions of the appellation.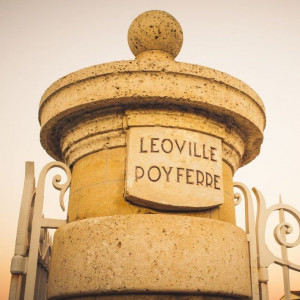 Name
Price Low
Price High
Year (Old)
Year (New)
Prices:
Product Name
Region
Qty
Score
Price

Bordeaux
1
87 (WA)

Inc. VAT

£596.40

Wine Advocate (87)

The 1961 is very good but not in the top class of wines from this vintage. Certainly rich, flavorful, and concentrated with fruit, this wine represents a rather rare phenomenon for Poyferre during a period of mediocrity. Dark ruby, with an attractive cedary, spicy, mature bouquet, on the palate, the 1961 Leoville-Poyferre is deep, supple, ripe, and long, but fully mature. Anticipated maturity: Now. Last tasted, 3/80.

More Info

Bordeaux
2
95 (DC)

Inc. VAT

£1,684.87

Decanter (95)

The colour is starting to take on the brick-edged ruby that fully mature Bordeaux reaches and retains for decades in the best cases. Freshness is still very much in play, along with tobacco, cigar box and eucalyptus. 1996 was a brilliant vintage in the Médoc and it shows. This is a near perfect 20-year-old Bordeaux; there is the generous signature of Léoville Poyferré wine but at this point St-Julien balance and finesse has taken over, just relax and enjoy the results.

More Info

Bordeaux
1
95.0

Inc. VAT

£712.84

Bordeaux
1
96 (WA)

Inc. VAT

£1,646.47

Wine Advocate (96)

The spectacular 2003 Leoville Poyferre exhibits a dense purple color with a touch of lightening at the edge as well as notes of creosote, barbecue smoke, jammy black currants, licorice and spice box. This intense, voluptuously textured, full-bodied St.-Julien possesses low acidity and ripe tannin. Still fresh and exuberant, it is just entering its plateau of full maturity where it should remain for 10-15+ years.

More Info

Bordeaux
1
95-100 (WS)

Inc. VAT

£1,462.87

Wine Spectator (95-100)

Loads of blackberry, licorice and toasted oak on the nose. Full-bodied, with lots of focused and clean ripe fruit character. Balanced and refined. Another 2003? Maybe even better? Score range: 95-100

More Info

Bordeaux
1
95.0

Inc. VAT

£1,016.47

Bordeaux
1
98 (WA)

Inc. VAT

£2,294.47

Wine Advocate (98)

Having retreated into its shell, the deep garnet colored 2009 Léoville Poyferré gives up slowly revealing notions of cigar boxes, pencil lead, charcoal, rose hip tea and fragrant earth with a core of preserved plums, crème de cassis, espresso and Indian spices. Full, rich, seductive and voluptuously fruited in the mouth, the palate features firm yet beautifully velvety tannins and seamless freshness, finishing very long and spicy.

More Info

Bordeaux
2
99 (JD)

Inc. VAT

£1,753.27

Jeb Dunnuck (99)

Another massive, incredible release from this estate is the 2010 Léoville Poyferré. Based on 56% Cabernet Sauvignon, 34% Merlot and the balance Petit Verdot, its inky purple color is followed by a massive, full-bodied, incredibly concentrated 2010 that has awesome notes of pure crème de cassis, licorice, graphite, and spring flowers. As with the 2009, it has incredible depth of fruit, yet a slightly more focused, classic style, which is very much in the style of the 2010 vintage. With its new oak completely absorbed by its wealth of fruit, perfect balance, and sweet tannin, it's a sensational, monumental effort to drink over the coming 3-4 decades.

More Info

Bordeaux
1
99 (JD)

Inc. VAT

£2,019.67

Jeb Dunnuck (99)

Another massive, incredible release from this estate is the 2010 Léoville Poyferré. Based on 56% Cabernet Sauvignon, 34% Merlot and the balance Petit Verdot, its inky purple color is followed by a massive, full-bodied, incredibly concentrated 2010 that has awesome notes of pure crème de cassis, licorice, graphite, and spring flowers. As with the 2009, it has incredible depth of fruit, yet a slightly more focused, classic style, which is very much in the style of the 2010 vintage. With its new oak completely absorbed by its wealth of fruit, perfect balance, and sweet tannin, it's a sensational, monumental effort to drink over the coming 3-4 decades.

More Info

Bordeaux
4
99 (JD)

Inc. VAT

£996.04

Jeb Dunnuck (99)

Another massive, incredible release from this estate is the 2010 Léoville Poyferré. Based on 56% Cabernet Sauvignon, 34% Merlot and the balance Petit Verdot, its inky purple color is followed by a massive, full-bodied, incredibly concentrated 2010 that has awesome notes of pure crème de cassis, licorice, graphite, and spring flowers. As with the 2009, it has incredible depth of fruit, yet a slightly more focused, classic style, which is very much in the style of the 2010 vintage. With its new oak completely absorbed by its wealth of fruit, perfect balance, and sweet tannin, it's a sensational, monumental effort to drink over the coming 3-4 decades.

More Info

Bordeaux
3
94 (WA)

Inc. VAT

£823.27

Wine Advocate (94)

This property, which has been on a qualitative tear over the last generation, has produced one of the most successful wines of 2011. A blend of 60% Cabernet Sauvignon, 30% Merlot and the rest Petit Verdot and Cabernet Franc, it is broad, rich, medium to full-bodied and dense. It boasts an inky/purple color as well as lots of concentration, silky tannins, and a bigger, richer mouthfeel than any of its St.-Julien peers. The result is one of the stars of the vintage.

More Info

Bordeaux
1
94 (VN (AG))

Inc. VAT

£1,063.27

Vinous - Antonio Galloni (94)

A dark, fleshy wine, the Léoville Poyferré 2012 is round, succulent and deeply expressive. Dark red cherry, plum, mocha, graphite and lavender are fused together in an effortless, silky Saint-Julien built on texture. Striking and totally beautiful, the 2012 will be ready to deliver its charms early. All the elements are in the right place. This is a gorgeous showing from Léoville-Poyferré. The 2012 is perhaps not an epic wine, but is gorgeous today and should provide considerable pleasure over the next 15-20 years. The blend is 62% Cabernet Sauvignon, 32% Merlot and 6% Petit Verdot.

More Info

Bordeaux
1
95 (VN (NM))

Inc. VAT

£967.27

Vinous - Neal Martin (95)

The 2014 Léoville Poyferré has a very complex bouquet with blackberry, bilberry, crushed stone, cedar and hints of violet. It is extremely focused, intense rather than overtly powerful. The palate is medium-bodied with fine tannin, crisp and generous, conveying much more tension and precision than the Léoville Las-Cases. It gradually fans out in the second half with real mineralité, quite profound in the context of the vintage. Outstanding. Tasted blind at the annual Southwold tasting.

More Info

Bordeaux
1
95 (VN (NM))

Inc. VAT

£589.84

Vinous - Neal Martin (95)

The 2014 Léoville Poyferré has a very complex bouquet with blackberry, bilberry, crushed stone, cedar and hints of violet. It is extremely focused, intense rather than overtly powerful. The palate is medium-bodied with fine tannin, crisp and generous, conveying much more tension and precision than the Léoville Las-Cases. It gradually fans out in the second half with real mineralité, quite profound in the context of the vintage. Outstanding. Tasted blind at the annual Southwold tasting.

More Info

Bordeaux
1
97 (VN (AG))

Inc. VAT

£1,029.67

Vinous - Antonio Galloni (97)

The 2015 Léoville-Poyferré is spectacular. Inky, dense and explosive, the 2015 possesses off the chart richness, with soft contours, no hard edges and exceptional balance. All the elements are simply fused together. inky blue/purplish fruit, chocolate, new leather, blueberry jam, exotic spice and violet notes are all beautifully delineated throughout. Fresh, vibrant and totally sexy, Léoville-Poyferré is one of the wines of the vintage. Don't miss it! Tasted two times.

More Info

Bordeaux
4
97 (VN (AG))

Inc. VAT

£574.84

Vinous - Antonio Galloni (97)

The 2015 Léoville-Poyferré is spectacular. Inky, dense and explosive, the 2015 possesses off the chart richness, with soft contours, no hard edges and exceptional balance. All the elements are simply fused together. inky blue/purplish fruit, chocolate, new leather, blueberry jam, exotic spice and violet notes are all beautifully delineated throughout. Fresh, vibrant and totally sexy, Léoville-Poyferré is one of the wines of the vintage. Don't miss it! Tasted two times.

More Info

Bordeaux
1
98 (DC)

Inc. VAT

£1,172.47

Decanter (98)

Relatively closed right now, as are all the St-Juliens, this takes time to open in the glass but does so to reveal lots of northern Médoc character in the liquorice and brambly fruit puree, with touches of caramel and sweet cassis. It's hewn out of slate boulders with layers of tannin - a lovely construction that's deepened even further during ageing. 2% Cabernet Franc finishes the blend. Matured in 80% new oak. Michel Rolland consults.

More Info

Bordeaux
2
98 (DC)

Inc. VAT

£525.23

Decanter (98)

Relatively closed right now, as are all the St-Juliens, this takes time to open in the glass but does so to reveal lots of northern Médoc character in the liquorice and brambly fruit puree, with touches of caramel and sweet cassis. It's hewn out of slate boulders with layers of tannin - a lovely construction that's deepened even further during ageing. 2% Cabernet Franc finishes the blend. Matured in 80% new oak. Michel Rolland consults.

More Info

Bordeaux
1
98 (DC)

Inc. VAT

£608.44

Decanter (98)

Relatively closed right now, as are all the St-Juliens, this takes time to open in the glass but does so to reveal lots of northern Médoc character in the liquorice and brambly fruit puree, with touches of caramel and sweet cassis. It's hewn out of slate boulders with layers of tannin - a lovely construction that's deepened even further during ageing. 2% Cabernet Franc finishes the blend. Matured in 80% new oak. Michel Rolland consults.

More Info

Bordeaux
10
97 (VN (AG))

Inc. VAT

£914.47

Vinous - Antonio Galloni (97)

A ravishing Saint-Julien, the Léoville-Poyferré is also very clearly one of the wines of the vintage on the Left Bank. Raspberry jam, blood orange, mint, spice and mocha all race out of the glass as this sumptuous, flamboyant wine shows off its exotic personality. With its vertical lift and explosive energy, the 2017 has so much to offer. It has been nothing less than stunning on the three occasions I have tasted it so far. In 2017, the Grand Vin is 68% Cabernet Sauvignon, 27% Merlot, 3% Cabernet Franc and 2% Petit Verdot. Because of the late season rains, only 3 out of the 5 parcels that typically inform the Grand Vin were used. This a tremendous effort from the Cuvelier family. Don't miss it.

More Info

Bordeaux
1
97 (VN (AG))

Inc. VAT

£402.83

Vinous - Antonio Galloni (97)

A ravishing Saint-Julien, the Léoville-Poyferré is also very clearly one of the wines of the vintage on the Left Bank. Raspberry jam, blood orange, mint, spice and mocha all race out of the glass as this sumptuous, flamboyant wine shows off its exotic personality. With its vertical lift and explosive energy, the 2017 has so much to offer. It has been nothing less than stunning on the three occasions I have tasted it so far. In 2017, the Grand Vin is 68% Cabernet Sauvignon, 27% Merlot, 3% Cabernet Franc and 2% Petit Verdot. Because of the late season rains, only 3 out of the 5 parcels that typically inform the Grand Vin were used. This a tremendous effort from the Cuvelier family. Don't miss it.

More Info

Bordeaux
1
97 (VN (AG))

Inc. VAT

£254.42

Vinous - Antonio Galloni (97)

A ravishing Saint-Julien, the Léoville-Poyferré is also very clearly one of the wines of the vintage on the Left Bank. Raspberry jam, blood orange, mint, spice and mocha all race out of the glass as this sumptuous, flamboyant wine shows off its exotic personality. With its vertical lift and explosive energy, the 2017 has so much to offer. It has been nothing less than stunning on the three occasions I have tasted it so far. In 2017, the Grand Vin is 68% Cabernet Sauvignon, 27% Merlot, 3% Cabernet Franc and 2% Petit Verdot. Because of the late season rains, only 3 out of the 5 parcels that typically inform the Grand Vin were used. This a tremendous effort from the Cuvelier family. Don't miss it.

More Info

Bordeaux
1
97 (VN (AG))

Inc. VAT

£488.44

Vinous - Antonio Galloni (97)

A ravishing Saint-Julien, the Léoville-Poyferré is also very clearly one of the wines of the vintage on the Left Bank. Raspberry jam, blood orange, mint, spice and mocha all race out of the glass as this sumptuous, flamboyant wine shows off its exotic personality. With its vertical lift and explosive energy, the 2017 has so much to offer. It has been nothing less than stunning on the three occasions I have tasted it so far. In 2017, the Grand Vin is 68% Cabernet Sauvignon, 27% Merlot, 3% Cabernet Franc and 2% Petit Verdot. Because of the late season rains, only 3 out of the 5 parcels that typically inform the Grand Vin were used. This a tremendous effort from the Cuvelier family. Don't miss it.

More Info

Bordeaux
2
100 (JD)

Inc. VAT

£1,239.67

Jeb Dunnuck (100)

Every bit as good as the 2009, and I think better than the 2010 and 2016, the 2018 Château Léoville Poyferré is a total thrill that tops out my scale. Based on 64% Cabernet Sauvignon, 30% Merlot, and the rest Cabernet Franc and Petit Verdot, its dense purple hue is followed by an incredible, full-bodied monster of a wine that, despite massive amounts of fruit, tannins, and extract, still stays weightless and ethereal, with incredible purity. Loaded with notions of crème de cassis, spring flowers, tobacco, violets, charcoal, and cedar pencil, it's extraordinarily concentrated, flawlessly balanced, and has a finish that won't quit. This is a legendary wine in the making. Give bottles 7-8 years, a decade would be even better, and it will keep for 40-50 years. Hats off to the Cuvelier family for another extraordinary wine!

More Info

Bordeaux
1
100 (JD)

Inc. VAT

£595.24

Jeb Dunnuck (100)

Every bit as good as the 2009, and I think better than the 2010 and 2016, the 2018 Château Léoville Poyferré is a total thrill that tops out my scale. Based on 64% Cabernet Sauvignon, 30% Merlot, and the rest Cabernet Franc and Petit Verdot, its dense purple hue is followed by an incredible, full-bodied monster of a wine that, despite massive amounts of fruit, tannins, and extract, still stays weightless and ethereal, with incredible purity. Loaded with notions of crème de cassis, spring flowers, tobacco, violets, charcoal, and cedar pencil, it's extraordinarily concentrated, flawlessly balanced, and has a finish that won't quit. This is a legendary wine in the making. Give bottles 7-8 years, a decade would be even better, and it will keep for 40-50 years. Hats off to the Cuvelier family for another extraordinary wine!

More Info

Bordeaux
1
98 (JD)

Inc. VAT

£740.86

Jeb Dunnuck (98)

The flagship 2019 Château Léoville Poyferré is based on 66% Cabernet Sauvignon, 27% Merlot, and the balance Petit Verdot. It's one of the bigger, richer wines in the vintage and has a gorgeous, thrilling, full-bodied style as well as notes of crème de cassis, tobacco leaf, violets, and chocolate. While many estates seem to be playing it safe and focusing on so-called elegance and balance, I love that Poyferré continues to make a ripe, sexy, beautifully textured wine that always offers more opulence and sexiness than most in the vintage. Ranking with the crème de la crème of the vintage, this gorgeous Poyferré can be enjoyed any time over the coming 40-50 years. Bravo!

More Info

Bordeaux
1
98 (JD)

Inc. VAT

£705.04

Jeb Dunnuck (98)

The flagship 2019 Château Léoville Poyferré is based on 66% Cabernet Sauvignon, 27% Merlot, and the balance Petit Verdot. It's one of the bigger, richer wines in the vintage and has a gorgeous, thrilling, full-bodied style as well as notes of crème de cassis, tobacco leaf, violets, and chocolate. While many estates seem to be playing it safe and focusing on so-called elegance and balance, I love that Poyferré continues to make a ripe, sexy, beautifully textured wine that always offers more opulence and sexiness than most in the vintage. Ranking with the crème de la crème of the vintage, this gorgeous Poyferré can be enjoyed any time over the coming 40-50 years. Bravo!

More Info

Bordeaux
2
98 (JD)

Inc. VAT

£1,303.27

Jeb Dunnuck (98)

The flagship 2019 Château Léoville Poyferré is based on 66% Cabernet Sauvignon, 27% Merlot, and the balance Petit Verdot. It's one of the bigger, richer wines in the vintage and has a gorgeous, thrilling, full-bodied style as well as notes of crème de cassis, tobacco leaf, violets, and chocolate. While many estates seem to be playing it safe and focusing on so-called elegance and balance, I love that Poyferré continues to make a ripe, sexy, beautifully textured wine that always offers more opulence and sexiness than most in the vintage. Ranking with the crème de la crème of the vintage, this gorgeous Poyferré can be enjoyed any time over the coming 40-50 years. Bravo!

More Info

Bordeaux
2
98 (JD)

Inc. VAT

£481.24

Jeb Dunnuck (98)

The flagship 2019 Château Léoville Poyferré is based on 66% Cabernet Sauvignon, 27% Merlot, and the balance Petit Verdot. It's one of the bigger, richer wines in the vintage and has a gorgeous, thrilling, full-bodied style as well as notes of crème de cassis, tobacco leaf, violets, and chocolate. While many estates seem to be playing it safe and focusing on so-called elegance and balance, I love that Poyferré continues to make a ripe, sexy, beautifully textured wine that always offers more opulence and sexiness than most in the vintage. Ranking with the crème de la crème of the vintage, this gorgeous Poyferré can be enjoyed any time over the coming 40-50 years. Bravo!

More Info

Bordeaux
2
98+ (JD)

Inc. VAT

£869.26

Jeb Dunnuck (98+)

The Grand Vin 2020 Château Léoville Poyferré, which is released in a stylish black bottle commemorating a century for the Cuvelier family, is reminiscent of the 2016 with its powerful, concentrated, yet vibrant and inward style. Pure crème de cassis, melted chocolate, loamy earth, graphite, and some spicy nuances all define the aromatics, and it's full-bodied, with a stacked mid-palate, nicely integrated oak, ripe tannins, and one hell of a great finish. This is another utterly brilliant wine from this team, which has been producing First Growth quality wines for many years now. The blend of the 2020 is 64% Cabernet Sauvignon, 31% Merlot, 3% Cabernet Franc, and the rest Petit Verdot, aged in 80% new barrels, hitting 13.58% natural alcohol and a pH of 3.81. It will benefit from just 5-7 years of bottle age and will evolve for 50 years or more if well stored. Bravo. Tasted multiple times with consistent results.

More Info
Product Name
Region
Qty
Score
Price

Bordeaux
1
87 (WA)

Inc. VAT

£596.40

Wine Advocate (87)

The 1961 is very good but not in the top class of wines from this vintage. Certainly rich, flavorful, and concentrated with fruit, this wine represents a rather rare phenomenon for Poyferre during a period of mediocrity. Dark ruby, with an attractive cedary, spicy, mature bouquet, on the palate, the 1961 Leoville-Poyferre is deep, supple, ripe, and long, but fully mature. Anticipated maturity: Now. Last tasted, 3/80.

More Info

Bordeaux
2
95 (DC)

In Bond

£1,372.00

Decanter (95)

The colour is starting to take on the brick-edged ruby that fully mature Bordeaux reaches and retains for decades in the best cases. Freshness is still very much in play, along with tobacco, cigar box and eucalyptus. 1996 was a brilliant vintage in the Médoc and it shows. This is a near perfect 20-year-old Bordeaux; there is the generous signature of Léoville Poyferré wine but at this point St-Julien balance and finesse has taken over, just relax and enjoy the results.

More Info

Bordeaux
1
95.0

In Bond

£578.00

Bordeaux
1
96 (WA)

In Bond

£1,340.00

Wine Advocate (96)

The spectacular 2003 Leoville Poyferre exhibits a dense purple color with a touch of lightening at the edge as well as notes of creosote, barbecue smoke, jammy black currants, licorice and spice box. This intense, voluptuously textured, full-bodied St.-Julien possesses low acidity and ripe tannin. Still fresh and exuberant, it is just entering its plateau of full maturity where it should remain for 10-15+ years.

More Info

Bordeaux
1
95-100 (WS)

In Bond

£1,187.00

Wine Spectator (95-100)

Loads of blackberry, licorice and toasted oak on the nose. Full-bodied, with lots of focused and clean ripe fruit character. Balanced and refined. Another 2003? Maybe even better? Score range: 95-100

More Info

Bordeaux
1
95.0

In Bond

£815.00

Bordeaux
1
98 (WA)

In Bond

£1,880.00

Wine Advocate (98)

Having retreated into its shell, the deep garnet colored 2009 Léoville Poyferré gives up slowly revealing notions of cigar boxes, pencil lead, charcoal, rose hip tea and fragrant earth with a core of preserved plums, crème de cassis, espresso and Indian spices. Full, rich, seductive and voluptuously fruited in the mouth, the palate features firm yet beautifully velvety tannins and seamless freshness, finishing very long and spicy.

More Info

Bordeaux
2
99 (JD)

In Bond

£1,429.00

Jeb Dunnuck (99)

Another massive, incredible release from this estate is the 2010 Léoville Poyferré. Based on 56% Cabernet Sauvignon, 34% Merlot and the balance Petit Verdot, its inky purple color is followed by a massive, full-bodied, incredibly concentrated 2010 that has awesome notes of pure crème de cassis, licorice, graphite, and spring flowers. As with the 2009, it has incredible depth of fruit, yet a slightly more focused, classic style, which is very much in the style of the 2010 vintage. With its new oak completely absorbed by its wealth of fruit, perfect balance, and sweet tannin, it's a sensational, monumental effort to drink over the coming 3-4 decades.

More Info

Bordeaux
1
99 (JD)

In Bond

£1,651.00

Jeb Dunnuck (99)

Another massive, incredible release from this estate is the 2010 Léoville Poyferré. Based on 56% Cabernet Sauvignon, 34% Merlot and the balance Petit Verdot, its inky purple color is followed by a massive, full-bodied, incredibly concentrated 2010 that has awesome notes of pure crème de cassis, licorice, graphite, and spring flowers. As with the 2009, it has incredible depth of fruit, yet a slightly more focused, classic style, which is very much in the style of the 2010 vintage. With its new oak completely absorbed by its wealth of fruit, perfect balance, and sweet tannin, it's a sensational, monumental effort to drink over the coming 3-4 decades.

More Info

Bordeaux
4
99 (JD)

In Bond

£814.00

Jeb Dunnuck (99)

Another massive, incredible release from this estate is the 2010 Léoville Poyferré. Based on 56% Cabernet Sauvignon, 34% Merlot and the balance Petit Verdot, its inky purple color is followed by a massive, full-bodied, incredibly concentrated 2010 that has awesome notes of pure crème de cassis, licorice, graphite, and spring flowers. As with the 2009, it has incredible depth of fruit, yet a slightly more focused, classic style, which is very much in the style of the 2010 vintage. With its new oak completely absorbed by its wealth of fruit, perfect balance, and sweet tannin, it's a sensational, monumental effort to drink over the coming 3-4 decades.

More Info

Bordeaux
3
94 (WA)

In Bond

£654.00

Wine Advocate (94)

This property, which has been on a qualitative tear over the last generation, has produced one of the most successful wines of 2011. A blend of 60% Cabernet Sauvignon, 30% Merlot and the rest Petit Verdot and Cabernet Franc, it is broad, rich, medium to full-bodied and dense. It boasts an inky/purple color as well as lots of concentration, silky tannins, and a bigger, richer mouthfeel than any of its St.-Julien peers. The result is one of the stars of the vintage.

More Info

Bordeaux
1
94 (VN (AG))

In Bond

£854.00

Vinous - Antonio Galloni (94)

A dark, fleshy wine, the Léoville Poyferré 2012 is round, succulent and deeply expressive. Dark red cherry, plum, mocha, graphite and lavender are fused together in an effortless, silky Saint-Julien built on texture. Striking and totally beautiful, the 2012 will be ready to deliver its charms early. All the elements are in the right place. This is a gorgeous showing from Léoville-Poyferré. The 2012 is perhaps not an epic wine, but is gorgeous today and should provide considerable pleasure over the next 15-20 years. The blend is 62% Cabernet Sauvignon, 32% Merlot and 6% Petit Verdot.

More Info

Bordeaux
1
95 (VN (NM))

In Bond

£774.00

Vinous - Neal Martin (95)

The 2014 Léoville Poyferré has a very complex bouquet with blackberry, bilberry, crushed stone, cedar and hints of violet. It is extremely focused, intense rather than overtly powerful. The palate is medium-bodied with fine tannin, crisp and generous, conveying much more tension and precision than the Léoville Las-Cases. It gradually fans out in the second half with real mineralité, quite profound in the context of the vintage. Outstanding. Tasted blind at the annual Southwold tasting.

More Info

Bordeaux
1
95 (VN (NM))

In Bond

£475.50

Vinous - Neal Martin (95)

The 2014 Léoville Poyferré has a very complex bouquet with blackberry, bilberry, crushed stone, cedar and hints of violet. It is extremely focused, intense rather than overtly powerful. The palate is medium-bodied with fine tannin, crisp and generous, conveying much more tension and precision than the Léoville Las-Cases. It gradually fans out in the second half with real mineralité, quite profound in the context of the vintage. Outstanding. Tasted blind at the annual Southwold tasting.

More Info

Bordeaux
1
97 (VN (AG))

In Bond

£826.00

Vinous - Antonio Galloni (97)

The 2015 Léoville-Poyferré is spectacular. Inky, dense and explosive, the 2015 possesses off the chart richness, with soft contours, no hard edges and exceptional balance. All the elements are simply fused together. inky blue/purplish fruit, chocolate, new leather, blueberry jam, exotic spice and violet notes are all beautifully delineated throughout. Fresh, vibrant and totally sexy, Léoville-Poyferré is one of the wines of the vintage. Don't miss it! Tasted two times.

More Info

Bordeaux
4
97 (VN (AG))

In Bond

£463.00

Vinous - Antonio Galloni (97)

The 2015 Léoville-Poyferré is spectacular. Inky, dense and explosive, the 2015 possesses off the chart richness, with soft contours, no hard edges and exceptional balance. All the elements are simply fused together. inky blue/purplish fruit, chocolate, new leather, blueberry jam, exotic spice and violet notes are all beautifully delineated throughout. Fresh, vibrant and totally sexy, Léoville-Poyferré is one of the wines of the vintage. Don't miss it! Tasted two times.

More Info

Bordeaux
1
98 (DC)

In Bond

£945.00

Decanter (98)

Relatively closed right now, as are all the St-Juliens, this takes time to open in the glass but does so to reveal lots of northern Médoc character in the liquorice and brambly fruit puree, with touches of caramel and sweet cassis. It's hewn out of slate boulders with layers of tannin - a lovely construction that's deepened even further during ageing. 2% Cabernet Franc finishes the blend. Matured in 80% new oak. Michel Rolland consults.

More Info

Bordeaux
2
98 (DC)

In Bond

£427.00

Decanter (98)

Relatively closed right now, as are all the St-Juliens, this takes time to open in the glass but does so to reveal lots of northern Médoc character in the liquorice and brambly fruit puree, with touches of caramel and sweet cassis. It's hewn out of slate boulders with layers of tannin - a lovely construction that's deepened even further during ageing. 2% Cabernet Franc finishes the blend. Matured in 80% new oak. Michel Rolland consults.

More Info

Bordeaux
1
98 (DC)

In Bond

£491.00

Decanter (98)

Relatively closed right now, as are all the St-Juliens, this takes time to open in the glass but does so to reveal lots of northern Médoc character in the liquorice and brambly fruit puree, with touches of caramel and sweet cassis. It's hewn out of slate boulders with layers of tannin - a lovely construction that's deepened even further during ageing. 2% Cabernet Franc finishes the blend. Matured in 80% new oak. Michel Rolland consults.

More Info

Bordeaux
10
97 (VN (AG))

In Bond

£730.00

Vinous - Antonio Galloni (97)

A ravishing Saint-Julien, the Léoville-Poyferré is also very clearly one of the wines of the vintage on the Left Bank. Raspberry jam, blood orange, mint, spice and mocha all race out of the glass as this sumptuous, flamboyant wine shows off its exotic personality. With its vertical lift and explosive energy, the 2017 has so much to offer. It has been nothing less than stunning on the three occasions I have tasted it so far. In 2017, the Grand Vin is 68% Cabernet Sauvignon, 27% Merlot, 3% Cabernet Franc and 2% Petit Verdot. Because of the late season rains, only 3 out of the 5 parcels that typically inform the Grand Vin were used. This a tremendous effort from the Cuvelier family. Don't miss it.

More Info

Bordeaux
1
97 (VN (AG))

In Bond

£325.00

Vinous - Antonio Galloni (97)

A ravishing Saint-Julien, the Léoville-Poyferré is also very clearly one of the wines of the vintage on the Left Bank. Raspberry jam, blood orange, mint, spice and mocha all race out of the glass as this sumptuous, flamboyant wine shows off its exotic personality. With its vertical lift and explosive energy, the 2017 has so much to offer. It has been nothing less than stunning on the three occasions I have tasted it so far. In 2017, the Grand Vin is 68% Cabernet Sauvignon, 27% Merlot, 3% Cabernet Franc and 2% Petit Verdot. Because of the late season rains, only 3 out of the 5 parcels that typically inform the Grand Vin were used. This a tremendous effort from the Cuvelier family. Don't miss it.

More Info

Bordeaux
1
97 (VN (AG))

In Bond

£204.00

Vinous - Antonio Galloni (97)

A ravishing Saint-Julien, the Léoville-Poyferré is also very clearly one of the wines of the vintage on the Left Bank. Raspberry jam, blood orange, mint, spice and mocha all race out of the glass as this sumptuous, flamboyant wine shows off its exotic personality. With its vertical lift and explosive energy, the 2017 has so much to offer. It has been nothing less than stunning on the three occasions I have tasted it so far. In 2017, the Grand Vin is 68% Cabernet Sauvignon, 27% Merlot, 3% Cabernet Franc and 2% Petit Verdot. Because of the late season rains, only 3 out of the 5 parcels that typically inform the Grand Vin were used. This a tremendous effort from the Cuvelier family. Don't miss it.

More Info

Bordeaux
1
97 (VN (AG))

In Bond

£391.00

Vinous - Antonio Galloni (97)

A ravishing Saint-Julien, the Léoville-Poyferré is also very clearly one of the wines of the vintage on the Left Bank. Raspberry jam, blood orange, mint, spice and mocha all race out of the glass as this sumptuous, flamboyant wine shows off its exotic personality. With its vertical lift and explosive energy, the 2017 has so much to offer. It has been nothing less than stunning on the three occasions I have tasted it so far. In 2017, the Grand Vin is 68% Cabernet Sauvignon, 27% Merlot, 3% Cabernet Franc and 2% Petit Verdot. Because of the late season rains, only 3 out of the 5 parcels that typically inform the Grand Vin were used. This a tremendous effort from the Cuvelier family. Don't miss it.

More Info

Bordeaux
2
100 (JD)

In Bond

£1,001.00

Jeb Dunnuck (100)

Every bit as good as the 2009, and I think better than the 2010 and 2016, the 2018 Château Léoville Poyferré is a total thrill that tops out my scale. Based on 64% Cabernet Sauvignon, 30% Merlot, and the rest Cabernet Franc and Petit Verdot, its dense purple hue is followed by an incredible, full-bodied monster of a wine that, despite massive amounts of fruit, tannins, and extract, still stays weightless and ethereal, with incredible purity. Loaded with notions of crème de cassis, spring flowers, tobacco, violets, charcoal, and cedar pencil, it's extraordinarily concentrated, flawlessly balanced, and has a finish that won't quit. This is a legendary wine in the making. Give bottles 7-8 years, a decade would be even better, and it will keep for 40-50 years. Hats off to the Cuvelier family for another extraordinary wine!

More Info

Bordeaux
1
100 (JD)

In Bond

£480.00

Jeb Dunnuck (100)

Every bit as good as the 2009, and I think better than the 2010 and 2016, the 2018 Château Léoville Poyferré is a total thrill that tops out my scale. Based on 64% Cabernet Sauvignon, 30% Merlot, and the rest Cabernet Franc and Petit Verdot, its dense purple hue is followed by an incredible, full-bodied monster of a wine that, despite massive amounts of fruit, tannins, and extract, still stays weightless and ethereal, with incredible purity. Loaded with notions of crème de cassis, spring flowers, tobacco, violets, charcoal, and cedar pencil, it's extraordinarily concentrated, flawlessly balanced, and has a finish that won't quit. This is a legendary wine in the making. Give bottles 7-8 years, a decade would be even better, and it will keep for 40-50 years. Hats off to the Cuvelier family for another extraordinary wine!

More Info

Bordeaux
1
98 (JD)

In Bond

£596.00

Jeb Dunnuck (98)

The flagship 2019 Château Léoville Poyferré is based on 66% Cabernet Sauvignon, 27% Merlot, and the balance Petit Verdot. It's one of the bigger, richer wines in the vintage and has a gorgeous, thrilling, full-bodied style as well as notes of crème de cassis, tobacco leaf, violets, and chocolate. While many estates seem to be playing it safe and focusing on so-called elegance and balance, I love that Poyferré continues to make a ripe, sexy, beautifully textured wine that always offers more opulence and sexiness than most in the vintage. Ranking with the crème de la crème of the vintage, this gorgeous Poyferré can be enjoyed any time over the coming 40-50 years. Bravo!

More Info

Bordeaux
1
98 (JD)

In Bond

£571.50

Jeb Dunnuck (98)

The flagship 2019 Château Léoville Poyferré is based on 66% Cabernet Sauvignon, 27% Merlot, and the balance Petit Verdot. It's one of the bigger, richer wines in the vintage and has a gorgeous, thrilling, full-bodied style as well as notes of crème de cassis, tobacco leaf, violets, and chocolate. While many estates seem to be playing it safe and focusing on so-called elegance and balance, I love that Poyferré continues to make a ripe, sexy, beautifully textured wine that always offers more opulence and sexiness than most in the vintage. Ranking with the crème de la crème of the vintage, this gorgeous Poyferré can be enjoyed any time over the coming 40-50 years. Bravo!

More Info

Bordeaux
2
98 (JD)

In Bond

£1,054.00

Jeb Dunnuck (98)

The flagship 2019 Château Léoville Poyferré is based on 66% Cabernet Sauvignon, 27% Merlot, and the balance Petit Verdot. It's one of the bigger, richer wines in the vintage and has a gorgeous, thrilling, full-bodied style as well as notes of crème de cassis, tobacco leaf, violets, and chocolate. While many estates seem to be playing it safe and focusing on so-called elegance and balance, I love that Poyferré continues to make a ripe, sexy, beautifully textured wine that always offers more opulence and sexiness than most in the vintage. Ranking with the crème de la crème of the vintage, this gorgeous Poyferré can be enjoyed any time over the coming 40-50 years. Bravo!

More Info

Bordeaux
2
98 (JD)

In Bond

£385.00

Jeb Dunnuck (98)

The flagship 2019 Château Léoville Poyferré is based on 66% Cabernet Sauvignon, 27% Merlot, and the balance Petit Verdot. It's one of the bigger, richer wines in the vintage and has a gorgeous, thrilling, full-bodied style as well as notes of crème de cassis, tobacco leaf, violets, and chocolate. While many estates seem to be playing it safe and focusing on so-called elegance and balance, I love that Poyferré continues to make a ripe, sexy, beautifully textured wine that always offers more opulence and sexiness than most in the vintage. Ranking with the crème de la crème of the vintage, this gorgeous Poyferré can be enjoyed any time over the coming 40-50 years. Bravo!

More Info

Bordeaux
2
98+ (JD)

In Bond

£703.00

Jeb Dunnuck (98+)

The Grand Vin 2020 Château Léoville Poyferré, which is released in a stylish black bottle commemorating a century for the Cuvelier family, is reminiscent of the 2016 with its powerful, concentrated, yet vibrant and inward style. Pure crème de cassis, melted chocolate, loamy earth, graphite, and some spicy nuances all define the aromatics, and it's full-bodied, with a stacked mid-palate, nicely integrated oak, ripe tannins, and one hell of a great finish. This is another utterly brilliant wine from this team, which has been producing First Growth quality wines for many years now. The blend of the 2020 is 64% Cabernet Sauvignon, 31% Merlot, 3% Cabernet Franc, and the rest Petit Verdot, aged in 80% new barrels, hitting 13.58% natural alcohol and a pH of 3.81. It will benefit from just 5-7 years of bottle age and will evolve for 50 years or more if well stored. Bravo. Tasted multiple times with consistent results.

More Info