Parusso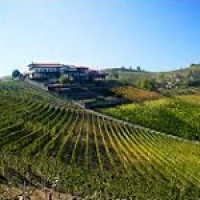 About Parusso
A family estate and now in the hands of the fourth generation, Parusso is located right between Monforte d'Alba and Castiglione Faletto.
Marco Parusso is a true innovator in Piedmont, following such practices as leaving the grapes to rest for 3 days before crushing, allowing the stems to dry, ripening the fine tannins and using whole bunch fermentation to add freshness. Antonio Galloni (Vinous), the world's leading critical authority on Italian wine, marks Marco Parusso out as one of the most exciting producers in all of Barolo right now:
"Marco Parusso makes some of the most idiosyncratic wines in Barolo" - Antonio Galloni (Vinous)
About Parussos' Wines
The keywords here are maturity and exotic aromatics. They harvest as late as possible while still retaining elegance. New oak barrels with a very low toast are used as they believe that new wood is full of oxygen. Their basic Barolo is a blend of the youngest vines from all their sites; the next level is the single-vineyard Mariondino – which Parusso is the only owner who bottles this as a single vineyard wine. The Le Coste dei Monforte and the Bussia are bigger and more classically structured.
Parusso also produces a special selection from the Bussia Vigna Roche vineyard - Bussia Riserva Per Francesco. This cuvée has an unbelievably minuscule production of just 100 bottles, 700 magnums, 30 jeroboams and 10 Methusalems.
Prices:
Year
Wine
Region
Format
Qty
Score
Price
Wishlist

Parusso Barolo 2017 (1x150cl)

2017
Piedmont
1x150cl
-
-

£68 - £75

Parusso Barolo 2017 (1x300cl)

2017
Piedmont
1x300cl
-
-

£141 - £155

Parusso Barolo 2017 (6x75cl)

2017
Piedmont
6x75cl
-
-

£180 - £198

Parusso Barolo Bussia 2010 (6x75cl)

Inc. VAT: £468.32

2010
Piedmont
6x75cl
1
94 (VN)

Read Review/Description

Inc. VAT: £468.32

Parusso Barolo Bussia 2013 (6x75cl)

Inc. VAT: £581.27

2013
Piedmont
6x75cl
3
97 (JS)

Read Review/Description

Inc. VAT: £581.27

Parusso Barolo Bussia 2015 (6x75cl)

Inc. VAT: £586.07

2015
Piedmont
6x75cl
1
95 (VN)

Read Review/Description

Inc. VAT: £586.07

Parusso Barolo Bussia 2016 (1x500cl)

Inc. VAT: £719.86

2016
Piedmont
1x500cl
1
96+ (VN)

Read Review/Description

Inc. VAT: £719.86

Parusso Barolo Bussia 2017 (1x150cl)

2017
Piedmont
1x150cl
-
-

£132 - £145

Parusso Barolo Bussia 2017 (1x300cl)

2017
Piedmont
1x300cl
-
-

£260 - £286

Parusso Barolo Bussia 2017 (1x500cl)

2017
Piedmont
1x500cl
-
-

£321 - £353

Parusso Barolo Bussia 2017 (6x75cl)

2017
Piedmont
6x75cl
-
-

£360 - £396

Parusso Barolo Bussia Rocche 2004 (6x75cl)

Inc. VAT: £1,904.71

2004
Piedmont
6x75cl
1
-
Inc. VAT: £1,904.71

Parusso Barolo Mariondino 2016 (6x75cl)

Inc. VAT: £422.50

2016
Piedmont
6x75cl
3
94 (VN)

Read Review/Description

Inc. VAT: £422.50

Parusso Barolo Mariondino 2017 (1x150cl)

2017
Piedmont
1x150cl
-
-

£87 - £96

Parusso Barolo Mariondino 2017 (6x75cl)

2017
Piedmont
6x75cl
-
-

£240 - £264

Parusso Barolo Mosconi 2017 (1x150cl)

2017
Piedmont
1x150cl
-
-

£135 - £149

Parusso Barolo Mosconi 2017 (6x75cl)

2017
Piedmont
6x75cl
-
-

£360 - £396

Parusso Barolo Mosconi 2018 (6x75cl)

Inc. VAT: £592.07

2018
Piedmont
6x75cl
1
97 (JS)

Read Review/Description

Inc. VAT: £592.07
Year
Wine
Region
Format
Qty
Score
Price
Wishlist

Parusso Barolo 2017 (1x150cl)

2017
Piedmont
1x150cl
-
-

£68 - £75

Parusso Barolo 2017 (1x300cl)

2017
Piedmont
1x300cl
-
-

£141 - £155

Parusso Barolo 2017 (6x75cl)

2017
Piedmont
6x75cl
-
-

£180 - £198

Parusso Barolo Bussia 2010 (6x75cl)

In Bond: £376.88

2010
Piedmont
6x75cl
1
94 (VN)

Read Review/Description

In Bond: £376.88

Parusso Barolo Bussia 2013 (6x75cl)

In Bond: £471.00

2013
Piedmont
6x75cl
3
97 (JS)

Read Review/Description

In Bond: £471.00

Parusso Barolo Bussia 2015 (6x75cl)

In Bond: £475.00

2015
Piedmont
6x75cl
1
95 (VN)

Read Review/Description

In Bond: £475.00

Parusso Barolo Bussia 2016 (1x500cl)

In Bond: £585.00

2016
Piedmont
1x500cl
1
96+ (VN)

Read Review/Description

In Bond: £585.00

Parusso Barolo Bussia 2017 (1x150cl)

2017
Piedmont
1x150cl
-
-

£132 - £145

Parusso Barolo Bussia 2017 (1x300cl)

2017
Piedmont
1x300cl
-
-

£260 - £286

Parusso Barolo Bussia 2017 (1x500cl)

2017
Piedmont
1x500cl
-
-

£321 - £353

Parusso Barolo Bussia 2017 (6x75cl)

2017
Piedmont
6x75cl
-
-

£360 - £396

Parusso Barolo Bussia Rocche 2004 (6x75cl)

In Bond: £1,573.87

2004
Piedmont
6x75cl
1
-
In Bond: £1,573.87

Parusso Barolo Mariondino 2016 (6x75cl)

In Bond: £338.69

2016
Piedmont
6x75cl
3
94 (VN)

Read Review/Description

In Bond: £338.69

Parusso Barolo Mariondino 2017 (1x150cl)

2017
Piedmont
1x150cl
-
-

£87 - £96

Parusso Barolo Mariondino 2017 (6x75cl)

2017
Piedmont
6x75cl
-
-

£240 - £264

Parusso Barolo Mosconi 2017 (1x150cl)

2017
Piedmont
1x150cl
-
-

£135 - £149

Parusso Barolo Mosconi 2017 (6x75cl)

2017
Piedmont
6x75cl
-
-

£360 - £396

Parusso Barolo Mosconi 2018 (6x75cl)

In Bond: £480.00

2018
Piedmont
6x75cl
1
97 (JS)

Read Review/Description

In Bond: £480.00