Solaia
About Solaia
Solaia is one of the most refined and coveted Super Tuscans from the illustrious Antinori family. It is a Cabernet Sauvignon-based wine with a touch of Sangiovese that showcases the excellence and tradition of Tuscan winemaking.
Solaia comes from a 50-acre parcel of southwest-facing vineyards on the same hillside as Tignanello, the other flagship wine of Marchesi Antinori. The vineyards are located at an altitude of 350-400 metres and receive the most sunlight exposure in the Tignanello estate. This gives Solaia its rich and complex character that reflects its terroir and history.
Solaia is only produced in exceptional vintages and has earned a reputation as one of Italy's most influential cuvées. It is a wine that combines Bordeaux elegance with Tuscan power and finesse.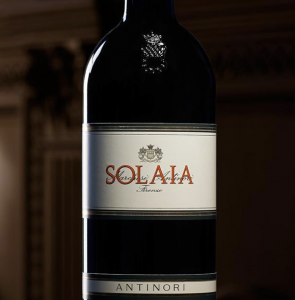 Name
Price Low
Price High
Year (Old)
Year (New)
Prices:
Product Name
Region
Qty
Score
Price

Tuscany
1
98 (WS)

Inc. VAT

£2,189.23

Wine Spectator (98)

Dark ruby in color, with extremely ripe raisin and spice aromas. Full-bodied and very chewy, with loads of polished tannins and a long, long finish that's big and fruity. A solid, muscular red fromTuscany, this is the greatest Solaia ever made. Best after 2004. 7,000 cases made.

More Info

Tuscany
1
96 (VN)

Inc. VAT

£1,631.63

Vinous (96)

Our third flight kicks off with the 1999 Solaia. Still a powerhouse, the 1999 (magnum) packs a serious punch. Dark macerated cherry, espresso, chocolate, licorice and blackberry jam infuse the 1999 with so much character. The 1999 is very much a product of its era, a time when heavy extraction and a search for concentration ruled the day. Even so, it has aged impeccably.

More Info

Tuscany
1
92 (WS)

Inc. VAT

£1,366.43

Wine Spectator (92)

Bright aromas of crushed berry and raspberry, with a hint of mineral. Full-bodied and very round, with lovely velvety tannins and a long finish. Big and boisterous. Almost rustic, but hell, it's a beauty. Cabernet Sauvignon, Sangiovese and Cabernet Franc.

More Info

Tuscany
4
92 (WS)

Inc. VAT

£1,046.42

Wine Spectator (92)

Bright aromas of crushed berry and raspberry, with a hint of mineral. Full-bodied and very round, with lovely velvety tannins and a long finish. Big and boisterous. Almost rustic, but hell, it's a beauty. Cabernet Sauvignon, Sangiovese and Cabernet Franc.

More Info

Tuscany
2
90+ (VN)

Inc. VAT

£1,816.84

Vinous (90+)

I would be surprised by the 2002 Solaia had I not recently tasted a number of wines from that vintage that continue to exceed expectations. In 2002 production was down sharply because of the cold, rainy growing season, which precluded the Sangiovese from being used. The 2002 was bottled with a different label that included the words 'Annata Diversa' i.e. 'Different Vintage.' Tasting the 2002 next to the other vintages, it doesn't really seem all that different.

More Info

Tuscany
1
97 (VN)

Inc. VAT

£393.20

Vinous (97)

One of the highlights in the evening, the 2004 Solaia (magnum) is the first wine that represents a move towards more finesse and elegance. There is plenty of explosive richness, but the 2004 is also incredibly nuanced. Graphite, licorice, leather and layers of dark fruit build in a powerful yet incredibly refined Solaia. The 2004 is such a beautiful wine.

More Info

Tuscany
1
97 (WS)

Inc. VAT

£1,186.43

Wine Spectator (97)

This offers gorgeous aromas of blackberry, mineral and flowers follow through to a full body, with superfine tannins and a long, long finish. A complex and wonderfully structured red. Long and beautiful. Best after 2012. 3,000 cases made. -JS

More Info

Tuscany
1
97 (WS)

Inc. VAT

£1,924.84

Wine Spectator (97)

Displays loads of mint, eucalyptus, currant and meat on the nose. Full-bodied, with masses of fruit, yet reserved and structured. Mouthpuckering now from all the tannins, but this will give incredible pleasure in years to come. Cabernet Sauvignon, Sangiovese and Cabernet Franc. Best after 2014. 6,250 cases made. -JS

More Info

Tuscany
1
97 (VN)

Inc. VAT

£1,924.84

Vinous (97)

The 2007 Solaia (magnum) captures all the exotic richness of the year in its luscious, racy personality. Raspberry jam, spice and white chocolate give the 2007 its decidedly flamboyant feel. There is not much subtlety here, but the 2007 offers tons of immediacy in a flashy style that is hard to resist. It is one of the most enjoyable wines of the night.

More Info

Tuscany
1
96 (JS)

Inc. VAT

£854.81

James Suckling (96)

Wonderful pure Cabernet character, with currants, spices, flowers and violets. Velvety and fresh. Long and intense. Less austere than the 2007 with very sweet and ripe tannins. Such beauty. This is really powerful. Give it three to four years before trying a bottle.

More Info

Tuscany
1
96 (JS)

Inc. VAT

£2,298.83

James Suckling (96)

Wonderful pure Cabernet character, with currants, spices, flowers and violets. Velvety and fresh. Long and intense. Less austere than the 2007 with very sweet and ripe tannins. Such beauty. This is really powerful. Give it three to four years before trying a bottle.

More Info

Tuscany
1
97 (WE)

Inc. VAT

£955.61

Wine Enthusiast (97)

Like its sunshine-inspired name suggests, Solaia is an opulent and generous achievement that represents the highest pedigree in Italian wine. The intensity is mind-blowing and the wine peels back slowly to reveal thick layers of blackberry, chocolate fudge, spice and general fruit decadence. The mouthfeel is super smooth yet powerful, delivered in the most elegant fashion.

More Info

Tuscany
1
97 (WE)

Inc. VAT

£300.20

Wine Enthusiast (97)

Like its sunshine-inspired name suggests, Solaia is an opulent and generous achievement that represents the highest pedigree in Italian wine. The intensity is mind-blowing and the wine peels back slowly to reveal thick layers of blackberry, chocolate fudge, spice and general fruit decadence. The mouthfeel is super smooth yet powerful, delivered in the most elegant fashion.

More Info

Tuscany
1
97 (WE)

Inc. VAT

£1,838.44

Wine Enthusiast (97)

Like its sunshine-inspired name suggests, Solaia is an opulent and generous achievement that represents the highest pedigree in Italian wine. The intensity is mind-blowing and the wine peels back slowly to reveal thick layers of blackberry, chocolate fudge, spice and general fruit decadence. The mouthfeel is super smooth yet powerful, delivered in the most elegant fashion.

More Info

Tuscany
1
98 (VN)

Inc. VAT

£1,759.24

Vinous (98)

The 2010 Solaia rounds out this flight in style. Swaths of tannin give the 2010 a real sense of explosive energy and vibrancy that only builds with time in the glass. A whole range of dark aromas and flavors give the 2010 its brooding, inward personality. Tasted from magnum, the 2010 is very young, but its pedigree is unmistakable.

More Info

Tuscany
1
96 (VN)

Inc. VAT

£1,718.44

Vinous (96)

Blackberry jam, cassis, grilled herbs and melted road tar meld together in the 2011 Solaia. Another super-exotic, racy 2011 from Antinori, Solaia is supremely beautiful. Mocha, espresso and sage are some of the many notes that add complexity. Hints of white truffle, lavender, smoke and licorice are laced into the exotic, racy finish. In 2011, Solaia has a dollop more of Cabernet Franc in the blend, added to give the wine a touch of freshness. Ripe and flashy to the core, the 2011 needs time to lose some of its youthful exuberance. At times, the 2011 could be easily mistaken for a wine from Napa Valley, such is its intensity.

More Info

Tuscany
1
97 (JS)

Inc. VAT

£1,786.43

James Suckling (97)

Extremely impressive ripe dark fruits of blueberries, plums and blackberries follow through to a full body, round texture and bright acidity. The finesse and depth to this red is stunning making it a wonderful successor to the 2011 Solaia. Needs three or four years to soften and open.

More Info

Tuscany
12
97 (JS)

Inc. VAT

£393.20

James Suckling (97)

Extremely impressive ripe dark fruits of blueberries, plums and blackberries follow through to a full body, round texture and bright acidity. The finesse and depth to this red is stunning making it a wonderful successor to the 2011 Solaia. Needs three or four years to soften and open.

More Info

Tuscany
3
97 (JS)

Inc. VAT

£1,639.24

James Suckling (97)

Extremely impressive ripe dark fruits of blueberries, plums and blackberries follow through to a full body, round texture and bright acidity. The finesse and depth to this red is stunning making it a wonderful successor to the 2011 Solaia. Needs three or four years to soften and open.

More Info

Tuscany
1
97+ (WA)

Inc. VAT

£1,977.64

Wine Advocate (97+)

The best vintages of Solaia are 1990, 1994, 1997, 1999, 2001, 2004, 2007, 2010 and now 2013. Marchesi Antinori's 2013 Solaia is a profound and meaningful wine that is based mostly on Cabernet Sauvignon with Sangiovese and Cabernet Franc in supporting roles. It sports a dark and thick texture with plump fruit and spice, grilled herb and black pepper. The bouquet is intense and layered with the kind of complexity that is best admired as the wine shifts and evolves in the glass. The textual impact is also impressive—you feel the inherent power and the structure, but these elements are never overdone. The best is yet to come; this Solaia is built for long cellar aging.

More Info

Tuscany
1
95 (WA)

Inc. VAT

£393.20

Wine Advocate (95)

The 2014 Solaia will be released during the second half of 2017. This is a fine-tuned expression that shows a focused sense of detail and careful attention. The quota of Cabernet Franc has been upped by a hair and this makes a big difference, especially in terms of the wine's bouquet. Otherwise, this celebrated Tuscan blend is mostly Cabernet Sauvignon with Sangiovese. It opens to dark fruit aromas with crushed mineral, pipe tobacco, pressed flower and toasted spice. Its appearance is midnight black and profound. The wine delivers a sense of sheer excitement and nervousness that will subside with another few years of bottle age. Nonetheless, I think a certain amount of that bright edginess or rigidness will always be part of this cool vintage Solaia. In the mouth, the wine is firm, compact and dense. The tannins are chiseled to the point of sublime integration. Marchesi Antinori made 40% less Solaia in this vintage in order to maintain the quality you taste here.

More Info

Tuscany
3
95 (WA)

Inc. VAT

£1,485.64

Wine Advocate (95)

The 2014 Solaia will be released during the second half of 2017. This is a fine-tuned expression that shows a focused sense of detail and careful attention. The quota of Cabernet Franc has been upped by a hair and this makes a big difference, especially in terms of the wine's bouquet. Otherwise, this celebrated Tuscan blend is mostly Cabernet Sauvignon with Sangiovese. It opens to dark fruit aromas with crushed mineral, pipe tobacco, pressed flower and toasted spice. Its appearance is midnight black and profound. The wine delivers a sense of sheer excitement and nervousness that will subside with another few years of bottle age. Nonetheless, I think a certain amount of that bright edginess or rigidness will always be part of this cool vintage Solaia. In the mouth, the wine is firm, compact and dense. The tannins are chiseled to the point of sublime integration. Marchesi Antinori made 40% less Solaia in this vintage in order to maintain the quality you taste here.

More Info

Tuscany
1
100 (WI)

Inc. VAT

£2,436.83

The Wine Independent (100)

This 2015 Marchesi Antinori Solaia is so charmingly sweet, ripe, and open with very bright and exuberant aromas of cream and blackberries. My impression is that many 2015s in Tuscany in general have absorbed more oak than in some other vintages but this wine wears it so well. The palate is super-harmonious with a gentle ease and flow and the tannins are beautifully integrated and combine with subtle flavors of sweet oak-spice, cream, vanilla and blackberry. There is an elegant acidity and juicy freshness but in this wine the tannins take on a new dimension becoming seamlessly refined. Just beautiful!

More Info

Tuscany
1
100 (WI)

Inc. VAT

£1,389.62

The Wine Independent (100)

This 2015 Marchesi Antinori Solaia is so charmingly sweet, ripe, and open with very bright and exuberant aromas of cream and blackberries. My impression is that many 2015s in Tuscany in general have absorbed more oak than in some other vintages but this wine wears it so well. The palate is super-harmonious with a gentle ease and flow and the tannins are beautifully integrated and combine with subtle flavors of sweet oak-spice, cream, vanilla and blackberry. There is an elegant acidity and juicy freshness but in this wine the tannins take on a new dimension becoming seamlessly refined. Just beautiful!

More Info

Tuscany
1
100 (WI)

Inc. VAT

£2,068.24

The Wine Independent (100)

This 2015 Marchesi Antinori Solaia is so charmingly sweet, ripe, and open with very bright and exuberant aromas of cream and blackberries. My impression is that many 2015s in Tuscany in general have absorbed more oak than in some other vintages but this wine wears it so well. The palate is super-harmonious with a gentle ease and flow and the tannins are beautifully integrated and combine with subtle flavors of sweet oak-spice, cream, vanilla and blackberry. There is an elegant acidity and juicy freshness but in this wine the tannins take on a new dimension becoming seamlessly refined. Just beautiful!

More Info

Tuscany
2
100 (WA)

Inc. VAT

£561.20

Wine Advocate (100)

I fussed over scoring this wine more than I'd like to admit—tasting through three samples under different conditions at various intervals and testing my impressions blind against wines in its peer group. Most importantly, I tasted this 2016 vintage against the 2015 vintage over and over again. I confess to a few nights of restless sleep as a result. Ultimately, my decision to award 100 points to the 2016 Solaia came on impulse and with the most natural sense of purpose. I had also given the 2015 vintage a perfect score, and intellectually, it seemed impossible not to pick a favorite among these two stunning expressions. I will also state, outright, that the wines are very different, principally because the 2015 vintage shows more overall opulence and sweetness that extends to the pronounced textural richness of the mouthfeel. The 2016 vintage, on the other hand, is more chiseled and sharp with mineral shadings of campfire ash and graphite at the rim of its dark fruit. The mouthfeel is more streamlined and tight at its core, suggesting that the wine will unfold and soften beautifully with time. I feel like 2015 is the Dolce & Gabbana of the situation and the 2016 is the Armani Privé. The personalities of the two wines are distinct, yet my admiration for each is identical.

More Info

Tuscany
1
100 (WA)

Inc. VAT

£2,438.44

Wine Advocate (100)

I fussed over scoring this wine more than I'd like to admit—tasting through three samples under different conditions at various intervals and testing my impressions blind against wines in its peer group. Most importantly, I tasted this 2016 vintage against the 2015 vintage over and over again. I confess to a few nights of restless sleep as a result. Ultimately, my decision to award 100 points to the 2016 Solaia came on impulse and with the most natural sense of purpose. I had also given the 2015 vintage a perfect score, and intellectually, it seemed impossible not to pick a favorite among these two stunning expressions. I will also state, outright, that the wines are very different, principally because the 2015 vintage shows more overall opulence and sweetness that extends to the pronounced textural richness of the mouthfeel. The 2016 vintage, on the other hand, is more chiseled and sharp with mineral shadings of campfire ash and graphite at the rim of its dark fruit. The mouthfeel is more streamlined and tight at its core, suggesting that the wine will unfold and soften beautifully with time. I feel like 2015 is the Dolce & Gabbana of the situation and the 2016 is the Armani Privé. The personalities of the two wines are distinct, yet my admiration for each is identical.

More Info

Tuscany
1
98 (WI)

Inc. VAT

£586.01

The Wine Independent (98)

The 2017 Marchesi Antinori Solaia has an inky black core with a young-looking, vivid purple rim. Wow! The nose is bright, pure, exuberant, and joyful with precise blackberry and blackcurrant aromas. This is such an appealing wine, focused on ripe expressive fruit, unhampered by too much oak. I adore its open, cheerful, accessible style. There is of course lots of cream, vanilla, and sweet spice notes but they are integrated beautifully into the rest of the wine. The palate is a little more firm and less covered by lush concentration but stylistically it feels closer to a sophisticated but lighter version of the 2015. The oak does not dominate; instead, it allows the fruit to find its full expression. There is a delightful, tangy, savory element on the finish. This 2017 Solaia is not overpowering but instead focused, pure and vibrant.

More Info

Tuscany
1
98 (WI)

Inc. VAT

£1,815.23

The Wine Independent (98)

The 2017 Marchesi Antinori Solaia has an inky black core with a young-looking, vivid purple rim. Wow! The nose is bright, pure, exuberant, and joyful with precise blackberry and blackcurrant aromas. This is such an appealing wine, focused on ripe expressive fruit, unhampered by too much oak. I adore its open, cheerful, accessible style. There is of course lots of cream, vanilla, and sweet spice notes but they are integrated beautifully into the rest of the wine. The palate is a little more firm and less covered by lush concentration but stylistically it feels closer to a sophisticated but lighter version of the 2015. The oak does not dominate; instead, it allows the fruit to find its full expression. There is a delightful, tangy, savory element on the finish. This 2017 Solaia is not overpowering but instead focused, pure and vibrant.

More Info

Tuscany
1
98 (WI)

Inc. VAT

£3,769.66

The Wine Independent (98)

The 2017 Marchesi Antinori Solaia has an inky black core with a young-looking, vivid purple rim. Wow! The nose is bright, pure, exuberant, and joyful with precise blackberry and blackcurrant aromas. This is such an appealing wine, focused on ripe expressive fruit, unhampered by too much oak. I adore its open, cheerful, accessible style. There is of course lots of cream, vanilla, and sweet spice notes but they are integrated beautifully into the rest of the wine. The palate is a little more firm and less covered by lush concentration but stylistically it feels closer to a sophisticated but lighter version of the 2015. The oak does not dominate; instead, it allows the fruit to find its full expression. There is a delightful, tangy, savory element on the finish. This 2017 Solaia is not overpowering but instead focused, pure and vibrant.

More Info
Product Name
Region
Qty
Score
Price

Tuscany
1
98 (WS)

In Bond

£1,811.00

Wine Spectator (98)

Dark ruby in color, with extremely ripe raisin and spice aromas. Full-bodied and very chewy, with loads of polished tannins and a long, long finish that's big and fruity. A solid, muscular red fromTuscany, this is the greatest Solaia ever made. Best after 2004. 7,000 cases made.

More Info

Tuscany
1
96 (VN)

In Bond

£1,349.00

Vinous (96)

Our third flight kicks off with the 1999 Solaia. Still a powerhouse, the 1999 (magnum) packs a serious punch. Dark macerated cherry, espresso, chocolate, licorice and blackberry jam infuse the 1999 with so much character. The 1999 is very much a product of its era, a time when heavy extraction and a search for concentration ruled the day. Even so, it has aged impeccably.

More Info

Tuscany
1
92 (WS)

In Bond

£1,128.00

Wine Spectator (92)

Bright aromas of crushed berry and raspberry, with a hint of mineral. Full-bodied and very round, with lovely velvety tannins and a long finish. Big and boisterous. Almost rustic, but hell, it's a beauty. Cabernet Sauvignon, Sangiovese and Cabernet Franc.

More Info

Tuscany
4
92 (WS)

In Bond

£864.00

Wine Spectator (92)

Bright aromas of crushed berry and raspberry, with a hint of mineral. Full-bodied and very round, with lovely velvety tannins and a long finish. Big and boisterous. Almost rustic, but hell, it's a beauty. Cabernet Sauvignon, Sangiovese and Cabernet Franc.

More Info

Tuscany
2
90+ (VN)

In Bond

£1,498.00

Vinous (90+)

I would be surprised by the 2002 Solaia had I not recently tasted a number of wines from that vintage that continue to exceed expectations. In 2002 production was down sharply because of the cold, rainy growing season, which precluded the Sangiovese from being used. The 2002 was bottled with a different label that included the words 'Annata Diversa' i.e. 'Different Vintage.' Tasting the 2002 next to the other vintages, it doesn't really seem all that different.

More Info

Tuscany
1
97 (VN)

In Bond

£325.00

Vinous (97)

One of the highlights in the evening, the 2004 Solaia (magnum) is the first wine that represents a move towards more finesse and elegance. There is plenty of explosive richness, but the 2004 is also incredibly nuanced. Graphite, licorice, leather and layers of dark fruit build in a powerful yet incredibly refined Solaia. The 2004 is such a beautiful wine.

More Info

Tuscany
1
97 (WS)

In Bond

£978.00

Wine Spectator (97)

This offers gorgeous aromas of blackberry, mineral and flowers follow through to a full body, with superfine tannins and a long, long finish. A complex and wonderfully structured red. Long and beautiful. Best after 2012. 3,000 cases made. -JS

More Info

Tuscany
1
97 (WS)

In Bond

£1,588.00

Wine Spectator (97)

Displays loads of mint, eucalyptus, currant and meat on the nose. Full-bodied, with masses of fruit, yet reserved and structured. Mouthpuckering now from all the tannins, but this will give incredible pleasure in years to come. Cabernet Sauvignon, Sangiovese and Cabernet Franc. Best after 2014. 6,250 cases made. -JS

More Info

Tuscany
1
97 (VN)

In Bond

£1,588.00

Vinous (97)

The 2007 Solaia (magnum) captures all the exotic richness of the year in its luscious, racy personality. Raspberry jam, spice and white chocolate give the 2007 its decidedly flamboyant feel. There is not much subtlety here, but the 2007 offers tons of immediacy in a flashy style that is hard to resist. It is one of the most enjoyable wines of the night.

More Info

Tuscany
1
96 (JS)

In Bond

£707.00

James Suckling (96)

Wonderful pure Cabernet character, with currants, spices, flowers and violets. Velvety and fresh. Long and intense. Less austere than the 2007 with very sweet and ripe tannins. Such beauty. This is really powerful. Give it three to four years before trying a bottle.

More Info

Tuscany
1
96 (JS)

In Bond

£1,905.00

James Suckling (96)

Wonderful pure Cabernet character, with currants, spices, flowers and violets. Velvety and fresh. Long and intense. Less austere than the 2007 with very sweet and ripe tannins. Such beauty. This is really powerful. Give it three to four years before trying a bottle.

More Info

Tuscany
1
97 (WE)

In Bond

£791.00

Wine Enthusiast (97)

Like its sunshine-inspired name suggests, Solaia is an opulent and generous achievement that represents the highest pedigree in Italian wine. The intensity is mind-blowing and the wine peels back slowly to reveal thick layers of blackberry, chocolate fudge, spice and general fruit decadence. The mouthfeel is super smooth yet powerful, delivered in the most elegant fashion.

More Info

Tuscany
1
97 (WE)

In Bond

£247.50

Wine Enthusiast (97)

Like its sunshine-inspired name suggests, Solaia is an opulent and generous achievement that represents the highest pedigree in Italian wine. The intensity is mind-blowing and the wine peels back slowly to reveal thick layers of blackberry, chocolate fudge, spice and general fruit decadence. The mouthfeel is super smooth yet powerful, delivered in the most elegant fashion.

More Info

Tuscany
1
97 (WE)

In Bond

£1,516.00

Wine Enthusiast (97)

Like its sunshine-inspired name suggests, Solaia is an opulent and generous achievement that represents the highest pedigree in Italian wine. The intensity is mind-blowing and the wine peels back slowly to reveal thick layers of blackberry, chocolate fudge, spice and general fruit decadence. The mouthfeel is super smooth yet powerful, delivered in the most elegant fashion.

More Info

Tuscany
1
98 (VN)

In Bond

£1,450.00

Vinous (98)

The 2010 Solaia rounds out this flight in style. Swaths of tannin give the 2010 a real sense of explosive energy and vibrancy that only builds with time in the glass. A whole range of dark aromas and flavors give the 2010 its brooding, inward personality. Tasted from magnum, the 2010 is very young, but its pedigree is unmistakable.

More Info

Tuscany
1
96 (VN)

In Bond

£1,416.00

Vinous (96)

Blackberry jam, cassis, grilled herbs and melted road tar meld together in the 2011 Solaia. Another super-exotic, racy 2011 from Antinori, Solaia is supremely beautiful. Mocha, espresso and sage are some of the many notes that add complexity. Hints of white truffle, lavender, smoke and licorice are laced into the exotic, racy finish. In 2011, Solaia has a dollop more of Cabernet Franc in the blend, added to give the wine a touch of freshness. Ripe and flashy to the core, the 2011 needs time to lose some of its youthful exuberance. At times, the 2011 could be easily mistaken for a wine from Napa Valley, such is its intensity.

More Info

Tuscany
1
97 (JS)

In Bond

£1,478.00

James Suckling (97)

Extremely impressive ripe dark fruits of blueberries, plums and blackberries follow through to a full body, round texture and bright acidity. The finesse and depth to this red is stunning making it a wonderful successor to the 2011 Solaia. Needs three or four years to soften and open.

More Info

Tuscany
12
97 (JS)

In Bond

£325.00

James Suckling (97)

Extremely impressive ripe dark fruits of blueberries, plums and blackberries follow through to a full body, round texture and bright acidity. The finesse and depth to this red is stunning making it a wonderful successor to the 2011 Solaia. Needs three or four years to soften and open.

More Info

Tuscany
3
97 (JS)

In Bond

£1,350.00

James Suckling (97)

Extremely impressive ripe dark fruits of blueberries, plums and blackberries follow through to a full body, round texture and bright acidity. The finesse and depth to this red is stunning making it a wonderful successor to the 2011 Solaia. Needs three or four years to soften and open.

More Info

Tuscany
1
97+ (WA)

In Bond

£1,632.00

Wine Advocate (97+)

The best vintages of Solaia are 1990, 1994, 1997, 1999, 2001, 2004, 2007, 2010 and now 2013. Marchesi Antinori's 2013 Solaia is a profound and meaningful wine that is based mostly on Cabernet Sauvignon with Sangiovese and Cabernet Franc in supporting roles. It sports a dark and thick texture with plump fruit and spice, grilled herb and black pepper. The bouquet is intense and layered with the kind of complexity that is best admired as the wine shifts and evolves in the glass. The textual impact is also impressive—you feel the inherent power and the structure, but these elements are never overdone. The best is yet to come; this Solaia is built for long cellar aging.

More Info

Tuscany
1
95 (WA)

In Bond

£325.00

Wine Advocate (95)

The 2014 Solaia will be released during the second half of 2017. This is a fine-tuned expression that shows a focused sense of detail and careful attention. The quota of Cabernet Franc has been upped by a hair and this makes a big difference, especially in terms of the wine's bouquet. Otherwise, this celebrated Tuscan blend is mostly Cabernet Sauvignon with Sangiovese. It opens to dark fruit aromas with crushed mineral, pipe tobacco, pressed flower and toasted spice. Its appearance is midnight black and profound. The wine delivers a sense of sheer excitement and nervousness that will subside with another few years of bottle age. Nonetheless, I think a certain amount of that bright edginess or rigidness will always be part of this cool vintage Solaia. In the mouth, the wine is firm, compact and dense. The tannins are chiseled to the point of sublime integration. Marchesi Antinori made 40% less Solaia in this vintage in order to maintain the quality you taste here.

More Info

Tuscany
3
95 (WA)

In Bond

£1,222.00

Wine Advocate (95)

The 2014 Solaia will be released during the second half of 2017. This is a fine-tuned expression that shows a focused sense of detail and careful attention. The quota of Cabernet Franc has been upped by a hair and this makes a big difference, especially in terms of the wine's bouquet. Otherwise, this celebrated Tuscan blend is mostly Cabernet Sauvignon with Sangiovese. It opens to dark fruit aromas with crushed mineral, pipe tobacco, pressed flower and toasted spice. Its appearance is midnight black and profound. The wine delivers a sense of sheer excitement and nervousness that will subside with another few years of bottle age. Nonetheless, I think a certain amount of that bright edginess or rigidness will always be part of this cool vintage Solaia. In the mouth, the wine is firm, compact and dense. The tannins are chiseled to the point of sublime integration. Marchesi Antinori made 40% less Solaia in this vintage in order to maintain the quality you taste here.

More Info

Tuscany
1
100 (WI)

In Bond

£2,020.00

The Wine Independent (100)

This 2015 Marchesi Antinori Solaia is so charmingly sweet, ripe, and open with very bright and exuberant aromas of cream and blackberries. My impression is that many 2015s in Tuscany in general have absorbed more oak than in some other vintages but this wine wears it so well. The palate is super-harmonious with a gentle ease and flow and the tannins are beautifully integrated and combine with subtle flavors of sweet oak-spice, cream, vanilla and blackberry. There is an elegant acidity and juicy freshness but in this wine the tannins take on a new dimension becoming seamlessly refined. Just beautiful!

More Info

Tuscany
1
100 (WI)

In Bond

£1,150.00

The Wine Independent (100)

This 2015 Marchesi Antinori Solaia is so charmingly sweet, ripe, and open with very bright and exuberant aromas of cream and blackberries. My impression is that many 2015s in Tuscany in general have absorbed more oak than in some other vintages but this wine wears it so well. The palate is super-harmonious with a gentle ease and flow and the tannins are beautifully integrated and combine with subtle flavors of sweet oak-spice, cream, vanilla and blackberry. There is an elegant acidity and juicy freshness but in this wine the tannins take on a new dimension becoming seamlessly refined. Just beautiful!

More Info

Tuscany
1
100 (WI)

In Bond

£1,707.50

The Wine Independent (100)

This 2015 Marchesi Antinori Solaia is so charmingly sweet, ripe, and open with very bright and exuberant aromas of cream and blackberries. My impression is that many 2015s in Tuscany in general have absorbed more oak than in some other vintages but this wine wears it so well. The palate is super-harmonious with a gentle ease and flow and the tannins are beautifully integrated and combine with subtle flavors of sweet oak-spice, cream, vanilla and blackberry. There is an elegant acidity and juicy freshness but in this wine the tannins take on a new dimension becoming seamlessly refined. Just beautiful!

More Info

Tuscany
2
100 (WA)

In Bond

£465.00

Wine Advocate (100)

I fussed over scoring this wine more than I'd like to admit—tasting through three samples under different conditions at various intervals and testing my impressions blind against wines in its peer group. Most importantly, I tasted this 2016 vintage against the 2015 vintage over and over again. I confess to a few nights of restless sleep as a result. Ultimately, my decision to award 100 points to the 2016 Solaia came on impulse and with the most natural sense of purpose. I had also given the 2015 vintage a perfect score, and intellectually, it seemed impossible not to pick a favorite among these two stunning expressions. I will also state, outright, that the wines are very different, principally because the 2015 vintage shows more overall opulence and sweetness that extends to the pronounced textural richness of the mouthfeel. The 2016 vintage, on the other hand, is more chiseled and sharp with mineral shadings of campfire ash and graphite at the rim of its dark fruit. The mouthfeel is more streamlined and tight at its core, suggesting that the wine will unfold and soften beautifully with time. I feel like 2015 is the Dolce & Gabbana of the situation and the 2016 is the Armani Privé. The personalities of the two wines are distinct, yet my admiration for each is identical.

More Info

Tuscany
1
100 (WA)

In Bond

£2,016.00

Wine Advocate (100)

I fussed over scoring this wine more than I'd like to admit—tasting through three samples under different conditions at various intervals and testing my impressions blind against wines in its peer group. Most importantly, I tasted this 2016 vintage against the 2015 vintage over and over again. I confess to a few nights of restless sleep as a result. Ultimately, my decision to award 100 points to the 2016 Solaia came on impulse and with the most natural sense of purpose. I had also given the 2015 vintage a perfect score, and intellectually, it seemed impossible not to pick a favorite among these two stunning expressions. I will also state, outright, that the wines are very different, principally because the 2015 vintage shows more overall opulence and sweetness that extends to the pronounced textural richness of the mouthfeel. The 2016 vintage, on the other hand, is more chiseled and sharp with mineral shadings of campfire ash and graphite at the rim of its dark fruit. The mouthfeel is more streamlined and tight at its core, suggesting that the wine will unfold and soften beautifully with time. I feel like 2015 is the Dolce & Gabbana of the situation and the 2016 is the Armani Privé. The personalities of the two wines are distinct, yet my admiration for each is identical.

More Info

Tuscany
1
98 (WI)

In Bond

£483.00

The Wine Independent (98)

The 2017 Marchesi Antinori Solaia has an inky black core with a young-looking, vivid purple rim. Wow! The nose is bright, pure, exuberant, and joyful with precise blackberry and blackcurrant aromas. This is such an appealing wine, focused on ripe expressive fruit, unhampered by too much oak. I adore its open, cheerful, accessible style. There is of course lots of cream, vanilla, and sweet spice notes but they are integrated beautifully into the rest of the wine. The palate is a little more firm and less covered by lush concentration but stylistically it feels closer to a sophisticated but lighter version of the 2015. The oak does not dominate; instead, it allows the fruit to find its full expression. There is a delightful, tangy, savory element on the finish. This 2017 Solaia is not overpowering but instead focused, pure and vibrant.

More Info

Tuscany
1
98 (WI)

In Bond

£1,502.00

The Wine Independent (98)

The 2017 Marchesi Antinori Solaia has an inky black core with a young-looking, vivid purple rim. Wow! The nose is bright, pure, exuberant, and joyful with precise blackberry and blackcurrant aromas. This is such an appealing wine, focused on ripe expressive fruit, unhampered by too much oak. I adore its open, cheerful, accessible style. There is of course lots of cream, vanilla, and sweet spice notes but they are integrated beautifully into the rest of the wine. The palate is a little more firm and less covered by lush concentration but stylistically it feels closer to a sophisticated but lighter version of the 2015. The oak does not dominate; instead, it allows the fruit to find its full expression. There is a delightful, tangy, savory element on the finish. This 2017 Solaia is not overpowering but instead focused, pure and vibrant.

More Info

Tuscany
1
98 (WI)

In Bond

£3,120.00

The Wine Independent (98)

The 2017 Marchesi Antinori Solaia has an inky black core with a young-looking, vivid purple rim. Wow! The nose is bright, pure, exuberant, and joyful with precise blackberry and blackcurrant aromas. This is such an appealing wine, focused on ripe expressive fruit, unhampered by too much oak. I adore its open, cheerful, accessible style. There is of course lots of cream, vanilla, and sweet spice notes but they are integrated beautifully into the rest of the wine. The palate is a little more firm and less covered by lush concentration but stylistically it feels closer to a sophisticated but lighter version of the 2015. The oak does not dominate; instead, it allows the fruit to find its full expression. There is a delightful, tangy, savory element on the finish. This 2017 Solaia is not overpowering but instead focused, pure and vibrant.

More Info