Vega Sicilia
About Vega Sicilia
Ribera del Duero sits as Spain's premier winegrowing region today, with Vega-Sicilia being the jewel in the crown. Undoubtedly Spain's First Growth, Vega-Sicilia, has risen to the top of winemaking in Spain since its inception in 1864 when Don Eloy Lecanda y Chaves brought Cabernet and Merlot cuttings over from Bordeaux, planting them alongside the Spanish Tempranillo. It is also the only Spanish producer in the Liv-ex 'Power 100' list of the world's most collectable wine estates. In 2019, it even jumped to 26th place, where it is rated above Pétrus, Opus One and Le Pin.
Viniculture
Vega Sicilia speaks of the barren, hot, sunshine terraces of central Spain. These are complex wines that are a constant and enjoyable paradox: showing depth with brilliance, grace with power. Their top wine is the legendary Único. Crafted from some of the oldest vines in the appellation, Único is released after long periods of ageing at the estate. Mainly Tempranillo with a small portion of Cabernet Sauvignon, this Gran Reserva is only made in top vintages and accounts for as little as a third of the estate's entire production.
The second wine, Valbuena 5°, uses the same blend as Único and is a pure expression of Tinto Fino (the local name for Tempranillo) with a splash of Merlot (6%). Named after the nearby village of Valbuena de Duero, the '5°' refers to the age of the wine, released after five (quinto) years of barrel and bottle age, hence the name of the end product: Valbuena 5º.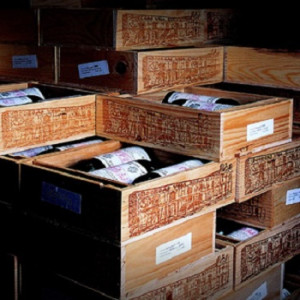 Name
Price Low
Price High
Year (Old)
Year (New)
Prices:
Product Name
Region
Qty
Score
Price

Castilla y Leon
1
93 (WA)

Inc. VAT

£328.80

Wine Advocate (93)

The 2007 Alion has a vibrant nose of dark cherries, violets, wild strawberry and a touch of leather that springs from the glass. The palate is medium-bodied with succulent tannins. This Alion is jam-packed full of juicy blackberry, spice, leather and bay leaf that all vie for attention, while the finish is poised and long in the mouth. The 2007 certainly has the substance to age with style. Drink 2015-2025.

More Info

Castilla y Leon
1
93 (WA)

Inc. VAT

£774.04

Wine Advocate (93)

The 2009 Alion, pure Tempranillo aged in French oak, has had the benefit of a couple more years in bottle than the 2011 and shows more nuances, more restraint and a more serious aroma profile. It's also a ripe year, with notes of plums and shy violets, the oak well-integrated into the wine. The palate is full-bodied with abundant, fine-grained tannins and a velvety, juicy texture, with good extraction and stuffing: I think this will be longer lived than the 2011. They have different styles – this is classier, and 2011 is more exuberant – but they are both at a similar quality level. 320,000 bottles produced. Drink now-2021.

More Info

Castilla y Leon
2
96 (JS)

Inc. VAT

£242.89

James Suckling (96)

Fresh and very floral with violets and berries. Blackberries and orange peel, too. Medium-to full-bodied with firm, linear tannins. Excellent length and structure. Seriously structured, Better after 2024, but already beautiful.

More Info

Castilla y Leon
1
96 (JS)

Inc. VAT

£489.89

James Suckling (96)

Fresh and very floral with violets and berries. Blackberries and orange peel, too. Medium-to full-bodied with firm, linear tannins. Excellent length and structure. Seriously structured, Better after 2024, but already beautiful.

More Info

Castilla y Leon
1
94 (TA)

Inc. VAT

£470.69

Tim Atkin MW (94)

Alión is a pan-Ribera blend, using grapes spread over 70 hectares, principally in the Burgos villages of La Aguilera, Moradillo de Roa and Roa. Aged in a combination of concrete and 70% new French and 5% American oak, this was picked early to counter the heat of the vintage. It's bright, focused and acid-driven, with scented wood and blueberry and black cherry fruit. Will age gracefully for a decade or more.

More Info

Castilla y Leon
22
95 (VN)

Inc. VAT

£230.89

Vinous (95)

Deep, glistening ruby. Expansive cherry, cassis, potpourri, exotic spice and cracked pepper scents on the intensely perfumed nose; subtle licorice, tobacco and vanilla qualities add complexity. Deep, sweet and penetrating on the palate, offering intense, spice- and smoke-tinged red and dark berry compote, violet pastille and cola flavors that become livelier with air. The floral quality gains strength on the strikingly long finish, which leaves smoke and mineral notes behind.

More Info

Castilla y Leon
1
92 (WA)

Inc. VAT

£1,926.49

Wine Advocate (92)

There was no Unico released in 1977 or 1978 so this must have come as a blessing at the time. The 1979 Unico has a generous bouquet that is not quite as complex as other vintages, with notes of mint, sandalwood, dried blood and redcurrant. The palate is medium-bodied, a little more rustic with tart red fruit, racy acidity with raspberry coulis, strawberry and a healthy sprinkling of white pepper towards the finish. It is a little compact at the moment but it has a fine effervescent, ferrous aftertaste that has more breadth and length than the 1976. 42,100 bottles produced. Drink now-2025.

More Info

Castilla y Leon
1
98 (WA)

Inc. VAT

£6,972.07

Wine Advocate (98)

The 1998 Unico is purple-colored with a complex bouquet of wood smoke, violets, Asian spices, mineral, blueberry, and assorted black fruits. This is followed by a full-bodied, dense, loaded wine with gobs of sweet fruit, great concentration, and layers of flavor. It will continue to evolve for another 5-7 years and drink well through 2040+.

More Info

Castilla y Leon
1
96 (VN)

Inc. VAT

£2,409.64

Vinous (96)

Ruby-red. Shockingly deep in color for a ten-year-old wine. Explosive aromas of cherry compote, black raspberry, blood orange, Asian spices and smoky minerals. Pure, vibrant and sweet, offering intense cherry and red berry flavors, with tangy mineral spine and an exotic smokiness. Extremely deep but energetic, with a powerful echo of minerals and singed orange on the endless finish. This is remarkably youthful but highly alluring already.

More Info

Castilla y Leon
3
95 (WA)

Inc. VAT

£692.00

Wine Advocate (95)

Having skipped over releasing a 2001 due to frost damage, the 2002 Unico is a result of a severe selection as attested by the label which shows that just 42,932 bottles were produced instead of 108,536 in 2000. It has an incredibly intense nose, much more linear and focused than the more flamboyant 2000, with scents of dark cherry, creme de cassis and a touch of honey and melted dark chocolate. The palate is medium-bodied with a slight grainy texture on the entry, a hint of cooked meat inflecting the layers of toasty dark berry fruit. It is very harmonious and perhaps at this juncture, edgier and grittier than the millennial Unico. It is less opulent and more structured than the 2000, but is a more cerebral wine. Drink 2020-2040+.

More Info

Castilla y Leon
1
98 (WE)

Inc. VAT

£1,246.82

Wine Enthusiast (98)

Lightly baked and hinting at raisin and fine herbs, the bouquet on this benchmark Spanish red enfolds aromas of tobacco, moss and ripe tomato. In the mouth, it's elegant and silky but also full and expansive. Flavors of baked berry fruits, baking spices, herbs and cocoa finish with a light coating of toast. This is an amazingly complete, exemplary wine that's just entering its prime. If past vintages of Unico are an indication, it will age well through 2035.

More Info

Castilla y Leon
1
97 (VN)

Inc. VAT

£1,112.42

Vinous (97)

(fermented in large oak tanks and aged for six years in new French and American oak barriques) Saturated ruby. Explosively perfumed aromas of fresh ripe red fruits, floral oils, pipe tobacco and incense take on sexy vanilla and woodsmoke nuances as the wine opens up. Densely packed yet shockingly lithe on the palate, offering intense cherry liqueur, red currant and spicecake flavors given spine by a core of juicy acidity. Shows superb energy and clarity, finishing sweet, smoky and extremely long; velvety tannins add gentle grip.

More Info

Castilla y Leon
1
100 (JS)

Inc. VAT

£1,125.62

James Suckling (100)

Incredibly floral and beautiful with dark berry, spice, cedar and mint. Chinese plums. Asian spices. Bark. Tea. Full body, dense and so soft and complex. The finish goes on for minutes. Endless and fine. January 2017 release. This reminds me of the gorgeous 1991 or 1964. Drink forever. A wine that you want to spend time with.

More Info

Castilla y Leon
2
100 (JS)

Inc. VAT

£2,178.04

James Suckling (100)

Incredibly floral and beautiful with dark berry, spice, cedar and mint. Chinese plums. Asian spices. Bark. Tea. Full body, dense and so soft and complex. The finish goes on for minutes. Endless and fine. January 2017 release. This reminds me of the gorgeous 1991 or 1964. Drink forever. A wine that you want to spend time with.

More Info

Castilla y Leon
2
19+ (JR)

Inc. VAT

£1,095.62

Jancis Robinson (19+)

Deep garnet with a wide smudgy rim. Spicy and laced with sweet chocolate. A certain untamed quality to the fine dark fruit. Peppery and highly seasoned but that doesn't batter the fruit, which is more like blackberry than cherry or cassis. As on several of the wines from this stable, there's a savoury dark-olive quality. Tannins are thick, resolved but not yet fine/elegant. Still remarkably not ready for the fullest expression of pleasure but it is clearly moving towards refinement and already has wonderful length.

More Info

Castilla y Leon
1
98 (VN)

Inc. VAT

£839.81

Vinous (98)

Inky ruby. An assertively perfumed, highly complex bouquet displays powerful, mineral-accented dark berry preserve, exotic spice, vanilla, potpourri and incense aromas, along with suggestions of cola and mocha. Broad, focused and deeply concentrated, offering palate-staining black and blue fruit liqueur, violet pastille and spicecake flavors that show remarkable clarity and are given spine and lift by a core of juicy acidity. The spice, mineral and floral notes resonate emphatically on the strikingly long, sweet finish, which features harmonious tannins and building, resonating dark berry character.

More Info

Castilla y Leon
1
98 (VN)

Inc. VAT

£1,191.62

Vinous (98)

Inky ruby. An assertively perfumed, highly complex bouquet displays powerful, mineral-accented dark berry preserve, exotic spice, vanilla, potpourri and incense aromas, along with suggestions of cola and mocha. Broad, focused and deeply concentrated, offering palate-staining black and blue fruit liqueur, violet pastille and spicecake flavors that show remarkable clarity and are given spine and lift by a core of juicy acidity. The spice, mineral and floral notes resonate emphatically on the strikingly long, sweet finish, which features harmonious tannins and building, resonating dark berry character.

More Info

Castilla y Leon
1
98 (VN)

Inc. VAT

£2,299.24

Vinous (98)

Inky ruby. An assertively perfumed, highly complex bouquet displays powerful, mineral-accented dark berry preserve, exotic spice, vanilla, potpourri and incense aromas, along with suggestions of cola and mocha. Broad, focused and deeply concentrated, offering palate-staining black and blue fruit liqueur, violet pastille and spicecake flavors that show remarkable clarity and are given spine and lift by a core of juicy acidity. The spice, mineral and floral notes resonate emphatically on the strikingly long, sweet finish, which features harmonious tannins and building, resonating dark berry character.

More Info

Castilla y Leon
1
100 (TA)

Inc. VAT

£846.41

Tim Atkin MW (100)

Vega Sicilia Único Reserva 2010 (14%) Perfection is as rare in wine as it is in most things in life, but this is a stunning Único, reflecting the quality of one of the greatest vintages of the last century. Blended with 6% Cabernet Sauvignon, as it was in 2009, it's still a very youthful wine right now, with closeknit tannins, thrilling acidity, layers of spices, fresh earth, tobacco, red and black fruits, some oak sweetness and a wonderfully refreshing, leafy undertone. Simply stunning.

More Info

Castilla y Leon
2
100 (TA)

Inc. VAT

£969.62

Tim Atkin MW (100)

Vega Sicilia Único Reserva 2010 (14%) Perfection is as rare in wine as it is in most things in life, but this is a stunning Único, reflecting the quality of one of the greatest vintages of the last century. Blended with 6% Cabernet Sauvignon, as it was in 2009, it's still a very youthful wine right now, with closeknit tannins, thrilling acidity, layers of spices, fresh earth, tobacco, red and black fruits, some oak sweetness and a wonderfully refreshing, leafy undertone. Simply stunning.

More Info

Castilla y Leon
1
98 (TA)

Inc. VAT

£900.62

Tim Atkin MW (98)

The only problem with the 2011," says Gonzalo Iturriaga, "is that it followed 2010." I gave the latter wine a perfect score, so I know what he means. And yet this is still a fantastic Único in its own right. Marrying Tinto Fino with 5% Cabernet Sauvignon, it's not as powerful or showy as the 2010, but has considerable elegance and finesse. Sweet, leafy, balsamic flavours are framed by perfumed French and 30% American oak, with the mint of the Cabernet surprisingly noticeable on the refreshing finish. The tannins are very fine indeed, caressing the tongue as they pass.

More Info

Castilla y Leon
1
98 (TA)

Inc. VAT

£1,035.62

Tim Atkin MW (98)

The latest in a superb run of Único releases, the 2012 is a finely judged cuvée of Tinto Fino and 5% Cabernet Sauvignon from vineyards on the south side of the Duero river with a northerly aspect. There's no sign of the heat of the vintage here on a wine that is poised, complex and self-assured. Floral, mature and nicely evolved, with fine French and American oak, graceful tannins and a hint of graphite. One of Spain's greatest reds.

More Info

Castilla y Leon
1
98 (JS)

Inc. VAT

£918.62

James Suckling (98)

This has a polished and complex nose of poached plums, dark cherries, tea leaves, graphite, milk chocolate and a touch of caramel. It's medium-to full-bodied with firm yet creamy tannins. Caressing, seductive and ripe, but with underlying freshness. 97% tempranillo and 3% cabernet sauvignon. Tasted from magnum. The normal bottle will be released 2023 and the magnum in 2025. Try after 2023.

More Info

Castilla y Leon
2
98 (JS)

Inc. VAT

£1,875.64

James Suckling (98)

This has a polished and complex nose of poached plums, dark cherries, tea leaves, graphite, milk chocolate and a touch of caramel. It's medium-to full-bodied with firm yet creamy tannins. Caressing, seductive and ripe, but with underlying freshness. 97% tempranillo and 3% cabernet sauvignon. Tasted from magnum. The normal bottle will be released 2023 and the magnum in 2025. Try after 2023.

More Info

Castilla y Leon
1
98 (WA)

Inc. VAT

£1,299.62

Wine Advocate (98)

To be released in 2020, the NV Único Reserva Especial 2020 Release is a non-vintage blend of 59 barrels from 2008, 2009 and 2010, mostly Tempranillo with some Cabernet Sauvignon. This wine has been getting closer to the style of the Único, and the blend is from vintages very close to the current release of Único, but somehow this year I think the blend has added some complexity to the bottled wine, which has the heart and soul of the 2010 vintage. In fact, they told me they are keeping more wine to have some older vintages to blend for this Reserva Especial, because in the last few years, the wine has been a little too young for the style that it used to have in the past. This has finesse and some of the Burgundian style of the blends of yesteryear. 17,071 bottles and 214 magnums produced. It was bottled in June 2016.

More Info

Castilla y Leon
1
95 (VN)

Inc. VAT

£1,209.62

Vinous (95)

Inky ruby. A deeply perfumed bouquet evokes ripe and red and dark berries, pipe tobacco, cola, mocha and incense, and a smoky mineral nuance gains strength as the wine opens up. Stains the palate with sweet blueberry liqueur, cherry cola, candied violet and spicecake flavors that smoothly blend richness and energy. Shows no rough edges and finishes extremely long and sappy, with resonating florality and fine-grained tannins that lend gentle closing grip. This is the 2018 release of this non-vintage blend.

More Info

Castilla y Leon
1
99 (JS)

Inc. VAT

£2,145.62

James Suckling (99)

Vintages blended seamlessly together. Unique to Vega Sicilia. The tobacco, spice and earthy depth here is terrific. Very complex iodine and almost oyster shell minerals. An array of red and black cherries and plums. Very complex. Very fresh. A blend of 2006, 2007 and 2009. Try in 2022.

More Info

Castilla y Leon
1
96 (VN)

Inc. VAT

£1,156.82

Vinous (96)

Saturated garnet. An expansive bouquet presents an array of dark fruit and floral qualities that are complemented by suggestions of exotic spices, vanilla, pipe tobacco and cedary oak. Stains the palate with concentrated, smoke-tinged cherry liqueur, cassis, fruitcake and candied licorice flavors, braced by a spine of juicy acidity. Shows excellent depth as well as energy and finishes extremely long and chewy, with resonating florality and sneaky tannins. This is the 2021 release for this always-intriguing wine, and it seems to be leading with its structured, 2010 component right now.

More Info

Castilla y Leon
7
-

Inc. VAT

£1,366.82

Castilla y Leon
1
94 (WA)

Inc. VAT

£2,367.67

Wine Advocate (94)

The 2003 Valbuena is purple-colored and super-fragrant with aromas of pain grille, pencil lead, black currant, and blackberry liqueur. This is followed by a powerful, concentrated wine with an opulent palate-feel, layers of flavor, and beautiful integration of oak, tannin, and acidity, no mean feat in the torrid 2003 vintage. Supple, sweet, and long, this superb effort will evolve for another 4-6 years and drink well through 2025.

More Info
Product Name
Region
Qty
Score
Price

Castilla y Leon
1
93 (WA)

Inc. VAT

£328.80

Wine Advocate (93)

The 2007 Alion has a vibrant nose of dark cherries, violets, wild strawberry and a touch of leather that springs from the glass. The palate is medium-bodied with succulent tannins. This Alion is jam-packed full of juicy blackberry, spice, leather and bay leaf that all vie for attention, while the finish is poised and long in the mouth. The 2007 certainly has the substance to age with style. Drink 2015-2025.

More Info

Castilla y Leon
1
93 (WA)

In Bond

£629.00

Wine Advocate (93)

The 2009 Alion, pure Tempranillo aged in French oak, has had the benefit of a couple more years in bottle than the 2011 and shows more nuances, more restraint and a more serious aroma profile. It's also a ripe year, with notes of plums and shy violets, the oak well-integrated into the wine. The palate is full-bodied with abundant, fine-grained tannins and a velvety, juicy texture, with good extraction and stuffing: I think this will be longer lived than the 2011. They have different styles – this is classier, and 2011 is more exuberant – but they are both at a similar quality level. 320,000 bottles produced. Drink now-2021.

More Info

Castilla y Leon
2
96 (JS)

In Bond

£196.00

James Suckling (96)

Fresh and very floral with violets and berries. Blackberries and orange peel, too. Medium-to full-bodied with firm, linear tannins. Excellent length and structure. Seriously structured, Better after 2024, but already beautiful.

More Info

Castilla y Leon
1
96 (JS)

In Bond

£389.00

James Suckling (96)

Fresh and very floral with violets and berries. Blackberries and orange peel, too. Medium-to full-bodied with firm, linear tannins. Excellent length and structure. Seriously structured, Better after 2024, but already beautiful.

More Info

Castilla y Leon
1
94 (TA)

In Bond

£373.00

Tim Atkin MW (94)

Alión is a pan-Ribera blend, using grapes spread over 70 hectares, principally in the Burgos villages of La Aguilera, Moradillo de Roa and Roa. Aged in a combination of concrete and 70% new French and 5% American oak, this was picked early to counter the heat of the vintage. It's bright, focused and acid-driven, with scented wood and blueberry and black cherry fruit. Will age gracefully for a decade or more.

More Info

Castilla y Leon
22
95 (VN)

In Bond

£186.00

Vinous (95)

Deep, glistening ruby. Expansive cherry, cassis, potpourri, exotic spice and cracked pepper scents on the intensely perfumed nose; subtle licorice, tobacco and vanilla qualities add complexity. Deep, sweet and penetrating on the palate, offering intense, spice- and smoke-tinged red and dark berry compote, violet pastille and cola flavors that become livelier with air. The floral quality gains strength on the strikingly long finish, which leaves smoke and mineral notes behind.

More Info

Castilla y Leon
1
92 (WA)

In Bond

£1,599.00

Wine Advocate (92)

There was no Unico released in 1977 or 1978 so this must have come as a blessing at the time. The 1979 Unico has a generous bouquet that is not quite as complex as other vintages, with notes of mint, sandalwood, dried blood and redcurrant. The palate is medium-bodied, a little more rustic with tart red fruit, racy acidity with raspberry coulis, strawberry and a healthy sprinkling of white pepper towards the finish. It is a little compact at the moment but it has a fine effervescent, ferrous aftertaste that has more breadth and length than the 1976. 42,100 bottles produced. Drink now-2025.

More Info

Castilla y Leon
1
98 (WA)

In Bond

£5,778.00

Wine Advocate (98)

The 1998 Unico is purple-colored with a complex bouquet of wood smoke, violets, Asian spices, mineral, blueberry, and assorted black fruits. This is followed by a full-bodied, dense, loaded wine with gobs of sweet fruit, great concentration, and layers of flavor. It will continue to evolve for another 5-7 years and drink well through 2040+.

More Info

Castilla y Leon
1
96 (VN)

In Bond

£1,992.00

Vinous (96)

Ruby-red. Shockingly deep in color for a ten-year-old wine. Explosive aromas of cherry compote, black raspberry, blood orange, Asian spices and smoky minerals. Pure, vibrant and sweet, offering intense cherry and red berry flavors, with tangy mineral spine and an exotic smokiness. Extremely deep but energetic, with a powerful echo of minerals and singed orange on the endless finish. This is remarkably youthful but highly alluring already.

More Info

Castilla y Leon
3
95 (WA)

In Bond

£574.00

Wine Advocate (95)

Having skipped over releasing a 2001 due to frost damage, the 2002 Unico is a result of a severe selection as attested by the label which shows that just 42,932 bottles were produced instead of 108,536 in 2000. It has an incredibly intense nose, much more linear and focused than the more flamboyant 2000, with scents of dark cherry, creme de cassis and a touch of honey and melted dark chocolate. The palate is medium-bodied with a slight grainy texture on the entry, a hint of cooked meat inflecting the layers of toasty dark berry fruit. It is very harmonious and perhaps at this juncture, edgier and grittier than the millennial Unico. It is less opulent and more structured than the 2000, but is a more cerebral wine. Drink 2020-2040+.

More Info

Castilla y Leon
1
98 (WE)

In Bond

£1,031.00

Wine Enthusiast (98)

Lightly baked and hinting at raisin and fine herbs, the bouquet on this benchmark Spanish red enfolds aromas of tobacco, moss and ripe tomato. In the mouth, it's elegant and silky but also full and expansive. Flavors of baked berry fruits, baking spices, herbs and cocoa finish with a light coating of toast. This is an amazingly complete, exemplary wine that's just entering its prime. If past vintages of Unico are an indication, it will age well through 2035.

More Info

Castilla y Leon
1
97 (VN)

In Bond

£919.00

Vinous (97)

(fermented in large oak tanks and aged for six years in new French and American oak barriques) Saturated ruby. Explosively perfumed aromas of fresh ripe red fruits, floral oils, pipe tobacco and incense take on sexy vanilla and woodsmoke nuances as the wine opens up. Densely packed yet shockingly lithe on the palate, offering intense cherry liqueur, red currant and spicecake flavors given spine by a core of juicy acidity. Shows superb energy and clarity, finishing sweet, smoky and extremely long; velvety tannins add gentle grip.

More Info

Castilla y Leon
1
100 (JS)

In Bond

£930.00

James Suckling (100)

Incredibly floral and beautiful with dark berry, spice, cedar and mint. Chinese plums. Asian spices. Bark. Tea. Full body, dense and so soft and complex. The finish goes on for minutes. Endless and fine. January 2017 release. This reminds me of the gorgeous 1991 or 1964. Drink forever. A wine that you want to spend time with.

More Info

Castilla y Leon
2
100 (JS)

In Bond

£1,799.00

James Suckling (100)

Incredibly floral and beautiful with dark berry, spice, cedar and mint. Chinese plums. Asian spices. Bark. Tea. Full body, dense and so soft and complex. The finish goes on for minutes. Endless and fine. January 2017 release. This reminds me of the gorgeous 1991 or 1964. Drink forever. A wine that you want to spend time with.

More Info

Castilla y Leon
2
19+ (JR)

In Bond

£905.00

Jancis Robinson (19+)

Deep garnet with a wide smudgy rim. Spicy and laced with sweet chocolate. A certain untamed quality to the fine dark fruit. Peppery and highly seasoned but that doesn't batter the fruit, which is more like blackberry than cherry or cassis. As on several of the wines from this stable, there's a savoury dark-olive quality. Tannins are thick, resolved but not yet fine/elegant. Still remarkably not ready for the fullest expression of pleasure but it is clearly moving towards refinement and already has wonderful length.

More Info

Castilla y Leon
1
98 (VN)

In Bond

£694.50

Vinous (98)

Inky ruby. An assertively perfumed, highly complex bouquet displays powerful, mineral-accented dark berry preserve, exotic spice, vanilla, potpourri and incense aromas, along with suggestions of cola and mocha. Broad, focused and deeply concentrated, offering palate-staining black and blue fruit liqueur, violet pastille and spicecake flavors that show remarkable clarity and are given spine and lift by a core of juicy acidity. The spice, mineral and floral notes resonate emphatically on the strikingly long, sweet finish, which features harmonious tannins and building, resonating dark berry character.

More Info

Castilla y Leon
1
98 (VN)

In Bond

£985.00

Vinous (98)

Inky ruby. An assertively perfumed, highly complex bouquet displays powerful, mineral-accented dark berry preserve, exotic spice, vanilla, potpourri and incense aromas, along with suggestions of cola and mocha. Broad, focused and deeply concentrated, offering palate-staining black and blue fruit liqueur, violet pastille and spicecake flavors that show remarkable clarity and are given spine and lift by a core of juicy acidity. The spice, mineral and floral notes resonate emphatically on the strikingly long, sweet finish, which features harmonious tannins and building, resonating dark berry character.

More Info

Castilla y Leon
1
98 (VN)

In Bond

£1,900.00

Vinous (98)

Inky ruby. An assertively perfumed, highly complex bouquet displays powerful, mineral-accented dark berry preserve, exotic spice, vanilla, potpourri and incense aromas, along with suggestions of cola and mocha. Broad, focused and deeply concentrated, offering palate-staining black and blue fruit liqueur, violet pastille and spicecake flavors that show remarkable clarity and are given spine and lift by a core of juicy acidity. The spice, mineral and floral notes resonate emphatically on the strikingly long, sweet finish, which features harmonious tannins and building, resonating dark berry character.

More Info

Castilla y Leon
1
100 (TA)

In Bond

£700.00

Tim Atkin MW (100)

Vega Sicilia Único Reserva 2010 (14%) Perfection is as rare in wine as it is in most things in life, but this is a stunning Único, reflecting the quality of one of the greatest vintages of the last century. Blended with 6% Cabernet Sauvignon, as it was in 2009, it's still a very youthful wine right now, with closeknit tannins, thrilling acidity, layers of spices, fresh earth, tobacco, red and black fruits, some oak sweetness and a wonderfully refreshing, leafy undertone. Simply stunning.

More Info

Castilla y Leon
2
100 (TA)

In Bond

£800.00

Tim Atkin MW (100)

Vega Sicilia Único Reserva 2010 (14%) Perfection is as rare in wine as it is in most things in life, but this is a stunning Único, reflecting the quality of one of the greatest vintages of the last century. Blended with 6% Cabernet Sauvignon, as it was in 2009, it's still a very youthful wine right now, with closeknit tannins, thrilling acidity, layers of spices, fresh earth, tobacco, red and black fruits, some oak sweetness and a wonderfully refreshing, leafy undertone. Simply stunning.

More Info

Castilla y Leon
1
98 (TA)

In Bond

£742.50

Tim Atkin MW (98)

The only problem with the 2011," says Gonzalo Iturriaga, "is that it followed 2010." I gave the latter wine a perfect score, so I know what he means. And yet this is still a fantastic Único in its own right. Marrying Tinto Fino with 5% Cabernet Sauvignon, it's not as powerful or showy as the 2010, but has considerable elegance and finesse. Sweet, leafy, balsamic flavours are framed by perfumed French and 30% American oak, with the mint of the Cabernet surprisingly noticeable on the refreshing finish. The tannins are very fine indeed, caressing the tongue as they pass.

More Info

Castilla y Leon
1
98 (TA)

In Bond

£855.00

Tim Atkin MW (98)

The latest in a superb run of Único releases, the 2012 is a finely judged cuvée of Tinto Fino and 5% Cabernet Sauvignon from vineyards on the south side of the Duero river with a northerly aspect. There's no sign of the heat of the vintage here on a wine that is poised, complex and self-assured. Floral, mature and nicely evolved, with fine French and American oak, graceful tannins and a hint of graphite. One of Spain's greatest reds.

More Info

Castilla y Leon
1
98 (JS)

In Bond

£757.50

James Suckling (98)

This has a polished and complex nose of poached plums, dark cherries, tea leaves, graphite, milk chocolate and a touch of caramel. It's medium-to full-bodied with firm yet creamy tannins. Caressing, seductive and ripe, but with underlying freshness. 97% tempranillo and 3% cabernet sauvignon. Tasted from magnum. The normal bottle will be released 2023 and the magnum in 2025. Try after 2023.

More Info

Castilla y Leon
2
98 (JS)

In Bond

£1,547.00

James Suckling (98)

This has a polished and complex nose of poached plums, dark cherries, tea leaves, graphite, milk chocolate and a touch of caramel. It's medium-to full-bodied with firm yet creamy tannins. Caressing, seductive and ripe, but with underlying freshness. 97% tempranillo and 3% cabernet sauvignon. Tasted from magnum. The normal bottle will be released 2023 and the magnum in 2025. Try after 2023.

More Info

Castilla y Leon
1
98 (WA)

In Bond

£1,075.00

Wine Advocate (98)

To be released in 2020, the NV Único Reserva Especial 2020 Release is a non-vintage blend of 59 barrels from 2008, 2009 and 2010, mostly Tempranillo with some Cabernet Sauvignon. This wine has been getting closer to the style of the Único, and the blend is from vintages very close to the current release of Único, but somehow this year I think the blend has added some complexity to the bottled wine, which has the heart and soul of the 2010 vintage. In fact, they told me they are keeping more wine to have some older vintages to blend for this Reserva Especial, because in the last few years, the wine has been a little too young for the style that it used to have in the past. This has finesse and some of the Burgundian style of the blends of yesteryear. 17,071 bottles and 214 magnums produced. It was bottled in June 2016.

More Info

Castilla y Leon
1
95 (VN)

In Bond

£1,000.00

Vinous (95)

Inky ruby. A deeply perfumed bouquet evokes ripe and red and dark berries, pipe tobacco, cola, mocha and incense, and a smoky mineral nuance gains strength as the wine opens up. Stains the palate with sweet blueberry liqueur, cherry cola, candied violet and spicecake flavors that smoothly blend richness and energy. Shows no rough edges and finishes extremely long and sappy, with resonating florality and fine-grained tannins that lend gentle closing grip. This is the 2018 release of this non-vintage blend.

More Info

Castilla y Leon
1
99 (JS)

In Bond

£1,780.00

James Suckling (99)

Vintages blended seamlessly together. Unique to Vega Sicilia. The tobacco, spice and earthy depth here is terrific. Very complex iodine and almost oyster shell minerals. An array of red and black cherries and plums. Very complex. Very fresh. A blend of 2006, 2007 and 2009. Try in 2022.

More Info

Castilla y Leon
1
96 (VN)

In Bond

£956.00

Vinous (96)

Saturated garnet. An expansive bouquet presents an array of dark fruit and floral qualities that are complemented by suggestions of exotic spices, vanilla, pipe tobacco and cedary oak. Stains the palate with concentrated, smoke-tinged cherry liqueur, cassis, fruitcake and candied licorice flavors, braced by a spine of juicy acidity. Shows excellent depth as well as energy and finishes extremely long and chewy, with resonating florality and sneaky tannins. This is the 2021 release for this always-intriguing wine, and it seems to be leading with its structured, 2010 component right now.

More Info

Castilla y Leon
7
-

In Bond

£1,131.00

Castilla y Leon
1
94 (WA)

In Bond

£1,941.00

Wine Advocate (94)

The 2003 Valbuena is purple-colored and super-fragrant with aromas of pain grille, pencil lead, black currant, and blackberry liqueur. This is followed by a powerful, concentrated wine with an opulent palate-feel, layers of flavor, and beautiful integration of oak, tannin, and acidity, no mean feat in the torrid 2003 vintage. Supple, sweet, and long, this superb effort will evolve for another 4-6 years and drink well through 2025.

More Info