Quinta do Vesuvio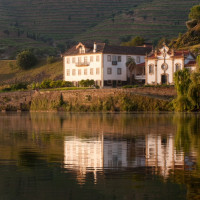 About Quinta do Vesuvio
Quinta do Vesuvio is unquestionably the single greatest "Quinta" in the Douro region. Spanning a vast 400 hectares in its entirety, around a quarter of this is planted with some of the finest and eldest vines in Portugal.
The story of Douro's "First Growth" began in 1823 with the vision of Antonio Bernardo Ferreira to create a vineyard the likes of which the Douro had never seen. In addition to the hundreds of terraces and thousands of vines, Ferreira built a magnificent adega (winery) which still stands to this day.
Producing its first wines some 3 years later when all requisite projects were completed, Quinta do Vesuvio rapidly became known as the undisputed king of the Douro, and a very strong challenger for the greatest Port producer in the country. It is a measure of the estate that not only does it release nothing but vintage Port, Quinta do Vesuvio will often produce stunning wines in years that are not declared by other houses.
The Winemaking
The Symington Group purchased Qunita do Vesuvio in 1989, and their investment has seen the estate maintain its reputation for unrivalled excellence whilst modernising with the best techniques and vineyard management. Not wholly disregarding of time-honoured techniques, the fruit of this mythical estate is trodden by foot in stone lageres - the method of choice still amongst all the greatest houses.
Despite the size of the vineyard here, the dramatically dry and hot conditions mean the vines are remarkably low yielding. Quantity is, quite rightly, sacrificed for titanic concentration, finesse and depth.