Vie di Romans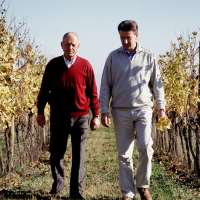 Hidden deep in the heart of Isonzo del Friuli, at the far southeast of Italy's most northeasterly vinous region, Vie di Romans stands proudly amongst the very finest producers of Italian wine across the whole country.
From this seat of viticultural power, the legendary Gianfranco Gallo crafts truly beautiful wines from his 60 hectares of vineyards. Broadly speaking, this entire area is comprised of well-drained soils which are rich in minerals and provide excellent water retention for the precious vines. From the East, consistently cool winds regulate the fruit's temperature during the hot ripening summer months. This tempering of the heat prolongs the grapes' time on the vine before maturation, allowing for greater development of characteristics and, ultimately, the intensity of the wine.
Naturally, this 60-hectare area is dotted with utterly unique and characterful terroirs in the form of single vineyards. The idiosyncrasies of these plots, which express themselves in the most wonderful ways through the wine in the bottle, are Gallo's true passion. Following a strict methodology of low yields and selective harvesting times, he coaxes the very best expressions of his varied terriors into our glasses.
Prices:
Year
Wine
Region
Format
Qty
Score
Price
Wishlist

Vie di Romans Dessimis Pinot Grigio 2019 (6x75cl)

Inc. VAT: £190.07

2019
Friuli Venezia Giulia
6x75cl
1
-
Inc. VAT: £190.07

Vie di Romans Dolee 2018 (6x75cl)

Inc. VAT: £286.07

2018
Friuli Venezia Giulia
6x75cl
1
95 (WA)

Read Review/Description

Inc. VAT: £286.07
Year
Wine
Region
Format
Qty
Score
Price
Wishlist

Vie di Romans Dessimis Pinot Grigio 2019 (6x75cl)

In Bond: £145.00

2019
Friuli Venezia Giulia
6x75cl
1
-
In Bond: £145.00

Vie di Romans Dolee 2018 (6x75cl)

In Bond: £225.00

2018
Friuli Venezia Giulia
6x75cl
1
95 (WA)

Read Review/Description

In Bond: £225.00