Champagne Vilmart & Cie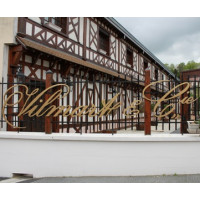 Champagne Vilmart & Cie
Champagne Vilmart & Cie is a Champagne house based in the village of Rilly-la-Montagne, at the foot of the Montagne de Reims. Vine growing history here dates back to 1890, and in fact, Vilmart is one of the pioneers of 'grower' champagne. Under the guidance of Laurent Champs since 1989, the house has risen to become one of the "top estates" (according to Galloni) in Champagne.
Part of the ethos that has served Vilmart so well is its commitment to organic viticulture. Working in partnership with nature, rather than struggling against it, gives their wines "extraordinary class and elegance " (Galloni) that many 'grand marques' cannot match. Champs uses no chemicals, and the estate has been pesticide-free since 1989, creating wonderfully healthy subsoils.
The remarkable "finesse" in the wine is also achieved by two signature wine-making techniques: vinification in oak barrels and avoidance of malolactic fermentation. Combining these techniques with grapes of exceptional quality, their Champagnes display "depth and complexity" and "a brisk focus and poise" (Decanter).
Prices:
Year
Wine
Region
Format
Qty
Score
Price
Wishlist

Vilmart Coeur de Cuvee 2013 (6x75cl)

Inc. VAT: £754.98

2013
Champagne
6x75cl
1
96 (VN)

Read Review/Description

Inc. VAT: £754.98

Vilmart Coeur de Cuvee 2014 (6x75cl)

Inc. VAT: £560.58

2014
Champagne
6x75cl
11
-

Read Review/Description

Inc. VAT: £560.58

Vilmart Grand Cellier d'Or 2014 (3x150cl)

Inc. VAT: £476.58

2014
Champagne
3x150cl
1
94+ (WA)

Read Review/Description

Inc. VAT: £476.58

Vilmart Grand Cellier NV (3x150cl)

Inc. VAT: £434.58

NV
Champagne
3x150cl
1
95 (WS)

Read Review/Description

Inc. VAT: £434.58

Vilmart Grand Cellier NV (6x75cl)

Inc. VAT: £378.18

NV
Champagne
6x75cl
2
95 (WS)

Read Review/Description

Inc. VAT: £378.18

Vilmart Grand Cellier Rubis Rose Brut 2013 (6x75cl)

Inc. VAT: £740.58

2013
Champagne
6x75cl
1
-
Inc. VAT: £740.58

Vilmart Les Blanches Voies Blanc de Blancs Premier Cru 2009 (1x75cl)

Inc. VAT: £337.03

2009
Champagne
1x75cl
5
96 (VN)

Read Review/Description

Inc. VAT: £337.03

Vilmart Les Blanches Voies Blanc de Blancs Premier Cru 2012 (1x75cl)

Inc. VAT: £212.23

2012
Champagne
1x75cl
6
-

Read Review/Description

Inc. VAT: £212.23
Year
Wine
Region
Format
Qty
Score
Price
Wishlist

Vilmart Coeur de Cuvee 2013 (6x75cl)

In Bond: £612.00

2013
Champagne
6x75cl
1
96 (VN)

Read Review/Description

In Bond: £612.00

Vilmart Coeur de Cuvee 2014 (6x75cl)

In Bond: £450.00

2014
Champagne
6x75cl
11
-

Read Review/Description

In Bond: £450.00

Vilmart Grand Cellier d'Or 2014 (3x150cl)

In Bond: £380.00

2014
Champagne
3x150cl
1
94+ (WA)

Read Review/Description

In Bond: £380.00

Vilmart Grand Cellier NV (3x150cl)

In Bond: £345.00

NV
Champagne
3x150cl
1
95 (WS)

Read Review/Description

In Bond: £345.00

Vilmart Grand Cellier NV (6x75cl)

In Bond: £298.00

NV
Champagne
6x75cl
2
95 (WS)

Read Review/Description

In Bond: £298.00

Vilmart Grand Cellier Rubis Rose Brut 2013 (6x75cl)

In Bond: £600.00

2013
Champagne
6x75cl
1
-
In Bond: £600.00

Vilmart Les Blanches Voies Blanc de Blancs Premier Cru 2009 (1x75cl)

In Bond: £278.00

2009
Champagne
1x75cl
5
96 (VN)

Read Review/Description

In Bond: £278.00

Vilmart Les Blanches Voies Blanc de Blancs Premier Cru 2012 (1x75cl)

In Bond: £174.00

2012
Champagne
1x75cl
6
-

Read Review/Description

In Bond: £174.00