2019 is one of Cheval Blanc's greatest ever vintages. No less than 5 x 100-point scores place it as one of the most highly rated vintages of all time.
The 2019 vintage is undervalued when compared with similar vintages and competitors.
Cheval Blanc was acquired in 1998 by luxury goods giant LVMH who heavily invested in both the viniculture and brand image of Cheval Blanc.
The 2019 Cheval Blanc is a 'must own' vintage for any serious fine wine portfolio. Collectors and investors alike should move swiftly whilst the price remains 'undervalued'.
Cheval Blanc's decision to leave Saint-Émilion's official classification system will give them the freedom to position themselves above officially classified estates.

---
Cheval Blanc 2019 is the Front Runner for the Most Appealing Vintage Available on the Secondary Market
The 2019 vintage from Cheval Blanc has a striking combination of high scores and undervalued price. Priced at £3,325 per (6x75cl), it is the clear 'standout' on the Cheval Blanc chart below: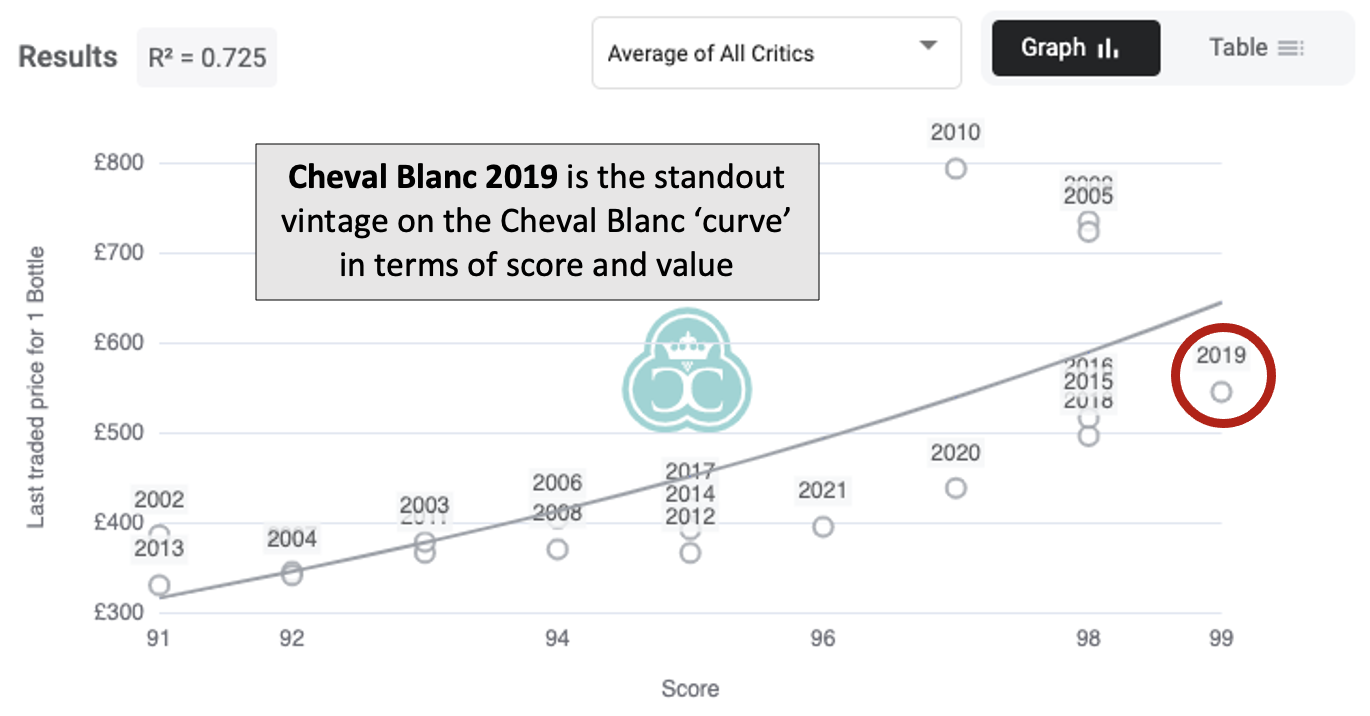 The 2019 vintage is the best modern vintage, having the highest average score. Using the fair value regression curve, we can see the 'fair value' of Cheval Blanc 2019 sits significantly higher (nearer £3,900 a case).
The chart has a very high correlation (R2 of 72.5%), which means that a correction upwards to fair value is a likely outcome over time.
Cheval Blanc 2019 is one of the greatest Cheval Blanc ever produced. Looking at similarly acclaimed vintages, only the 2005 and 2010 vintages come closest to emulating the quality of the 2019 vintage in the eyes of critics.

---
Bordeaux's Thoroughbred
Cheval Blanc 2019 has shown consistent price appreciation since release in June 2020, increasing by over 40%. This rate of return has outperformed the broader Bordeaux market by a wide margin.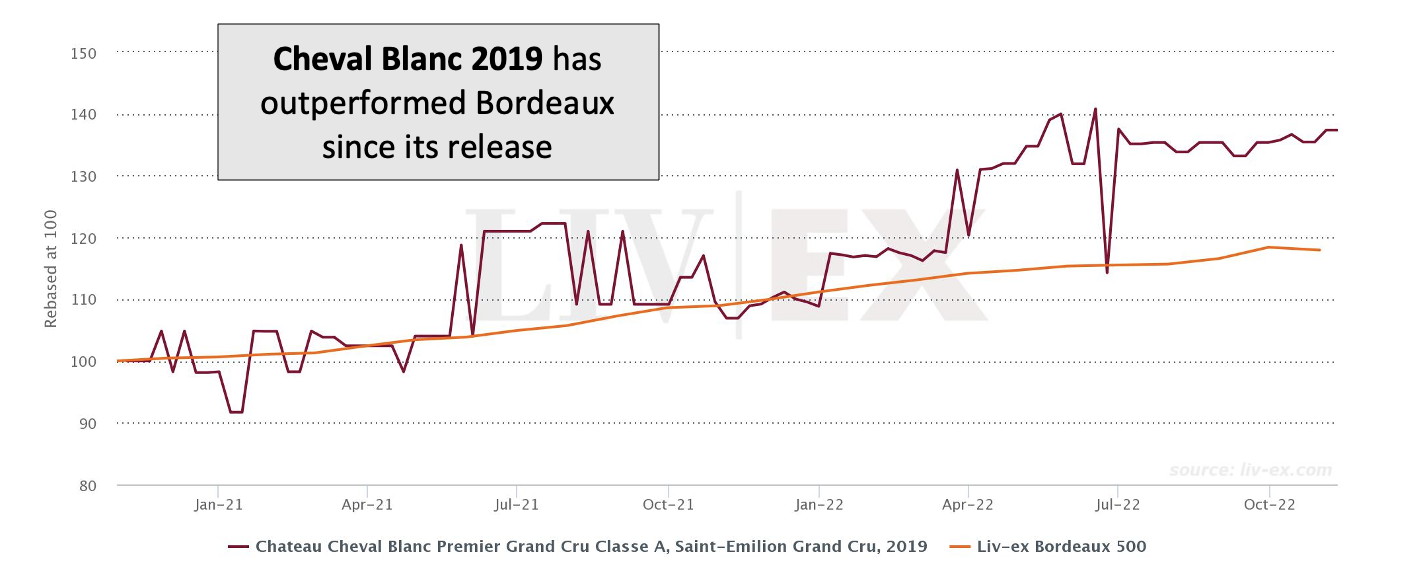 Although Cheval Blanc 2019 has exhibited excellent price growth since release, it has not kept pace with its top neighbours.
Of all the top Bordeaux 2019s, Cheval Blanc 2019 has appreciated least, which offers the prospect of some 'catch up' gains over the coming months and years, as collectors wake up to the relative undervaluation.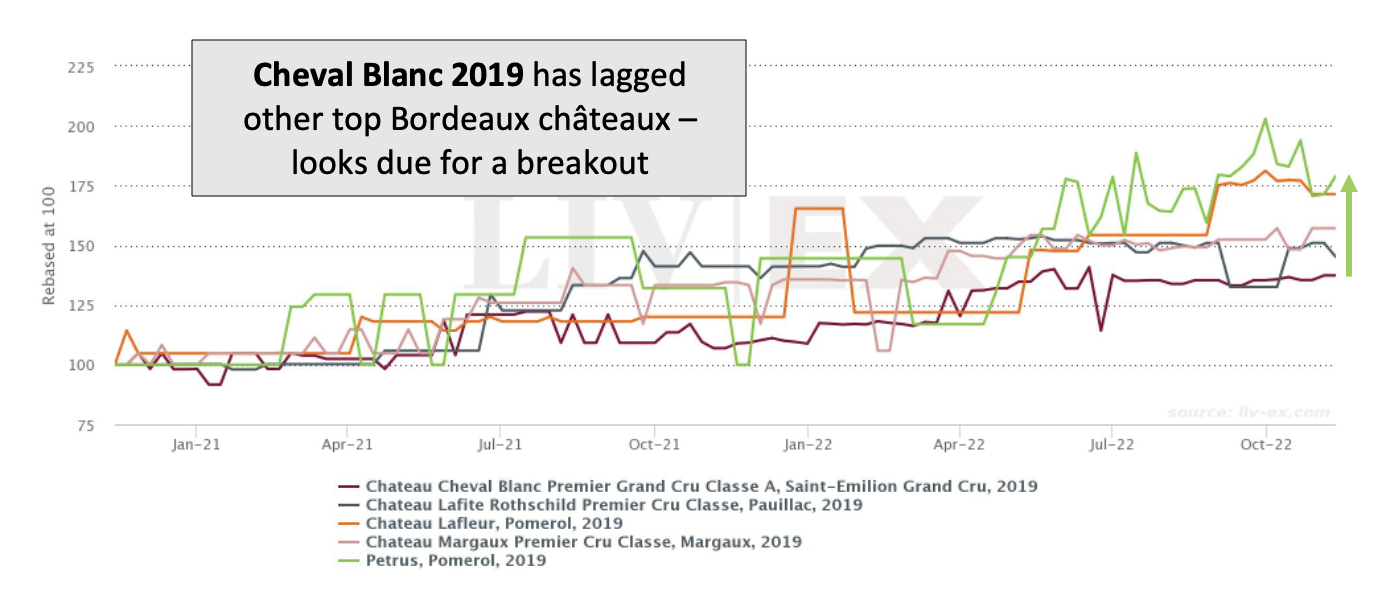 Cheval Blanc 2019's attractiveness really shines through when compared to Bordeaux's elite:

It Is worth noting that production volumes play a significant role in valuation. Lafite produces somewhere in the region of 20,000 cases each vintage, whereas Cheval Blanc produces roughly 8,000, less than half of Lafite's.
---
Backing the Right Horse
Cheval Blanc was acquired in 1998 by luxury goods giant LVMH, who have invested heavily in both the viniculture and brand image of the estate. The LVMH conglomerate owns some of the finest wine and spirit producers across the world (Dom Pérignon, Krug and Château d'Yquem etc.).
Cheval Blanc has joined Pétrus, Le Pin, Ausone and Angélus in no longer having an official classification. Cheval Blanc used to sit atop Saint-Émilion's classification system as a Premier Grand Cru Classé A, until they felt the values of the château were no longer aligned with that of the classification system and decided to leave. We believe that Cheval Blanc's brand is so strong they will shine outside the constraints of the classification system.
Whether it is in Super Tuscany, Pomerol or even in regions like Napa Valley, we believe that official classification can have as much an effect of 'levelling down' as levelling up, and hence the move Cheval Blanc to leave official classification will only increase their relative prestige as an undisputed 'king' of Saint-Émilion.
---